Us at Apacheonline.co.uk are pleased to announce that our brand new look homepage is now live and looking good! (if we don't say so ourselves!)
With a much cleaner design and new revolving brand banner, we are very pleased with the results.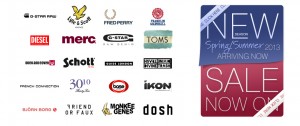 A nicely designed brand grid has been added showcasing the logo images of our brands including G-Star Raw, Lyle and Scott, Fred Perry, Franklin and Marshall plus many many more. Also a brand new graphic has been created to link to all New Season Styles and Sale items.
The last new feature added to Apacheonline is this revolving banner at the footer of the page.  It scrolls through 3 categories, Latest Brand News, Customer Testimonials and a selection of Sale Highlights.
We are very pleased with the results of our new homepage update, what do we all think?
We would love to here your comments so please take a look here! Apacheonline.co.uk