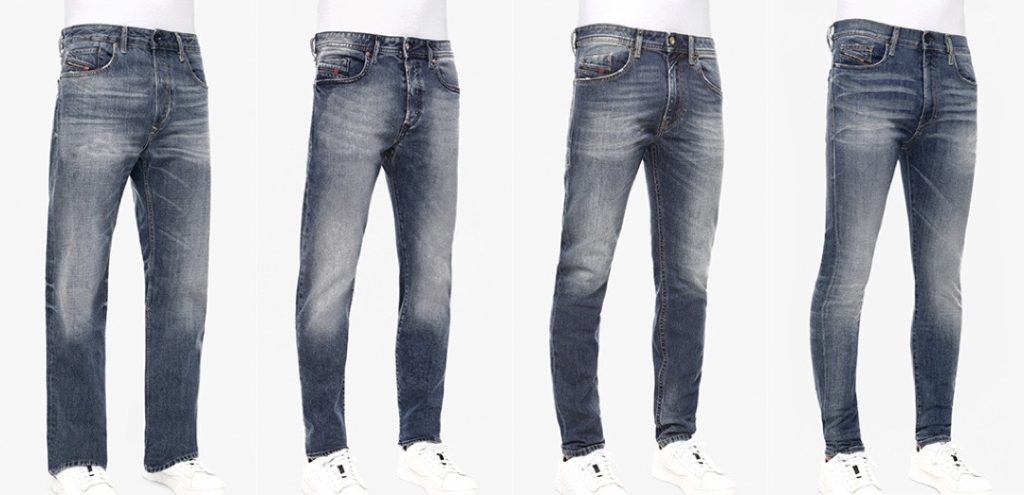 You guys that shop with us here at apache come in all shapes and sizes, and that's why we stock a wide variety of Jeans to fit all your needs, and we also have the product knowledge to make sure we can help you get that fit you've been looking for, whether it's a straight casual jean you're after or a smarter slimmer jean we can help fit you up with a pair of Diesels!
Take 15% Off New Season Diesel with Code: DIESEL15
The Straight Fit
The Straight Jean is our longest running fit, called Larkee & Waykee from Diesel and are what we started with when we first introduced the brand to the store and what we're still running to this day. A classic silhouette with a relaxed waist and comfortable thigh that stays the same width down to the hem, often popular in the Autumn Winter to sit over a chunky pair of boots.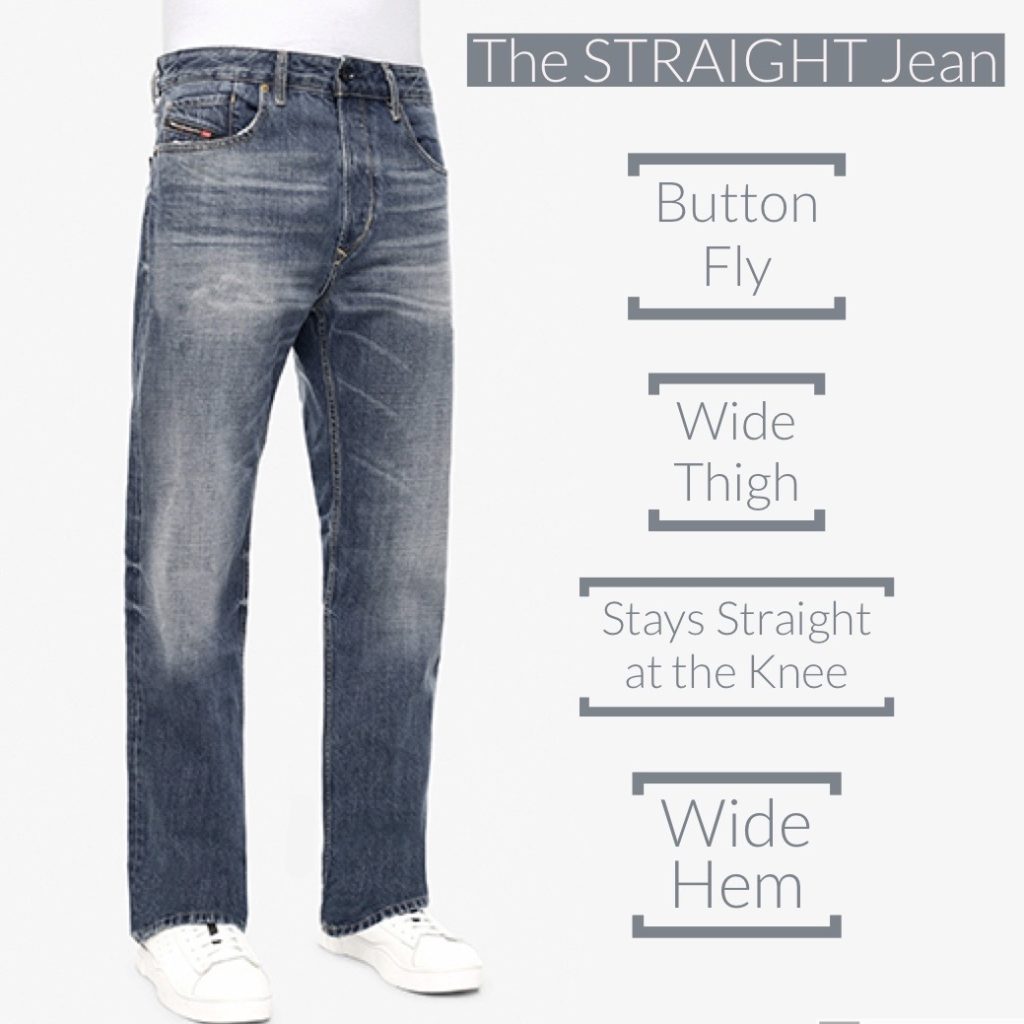 The Tapered Jean
The Tapered Jean has become our best selling Diesel fit in recent years replacing the Straight as top dog, especially when the Buster and Belther fits arrived and now the D-Bazer of recent. It starts with the relaxed waist and thigh until it gets to the knee, that's where the magic happens and the taper begins finishing in to a narrow hem and slim on the calf, perfect for the athletic gentleman that wants a slim jean but needs room for their big thighs.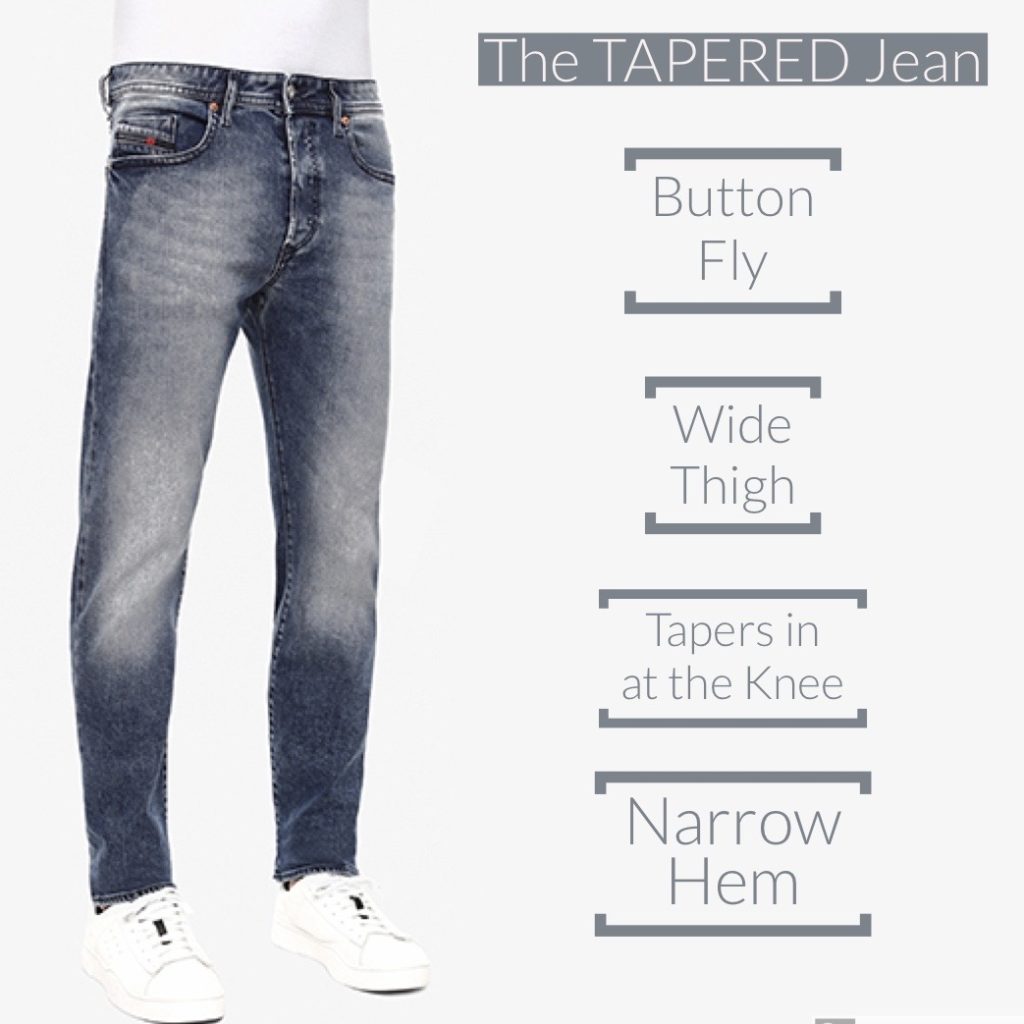 The Slim Jean
The Slim Jean follows the same silhouette of the Taper, just slimmer, our best selling slim is the Thommer. It starts with a tighter thigh but not super tight and at the knee gets slimmer down to a tight hem that will sit above your choice of footwear, we only do a Diesel slim jean if it comes with an added stretch woven into the denim to give you the flex you need for everyday life.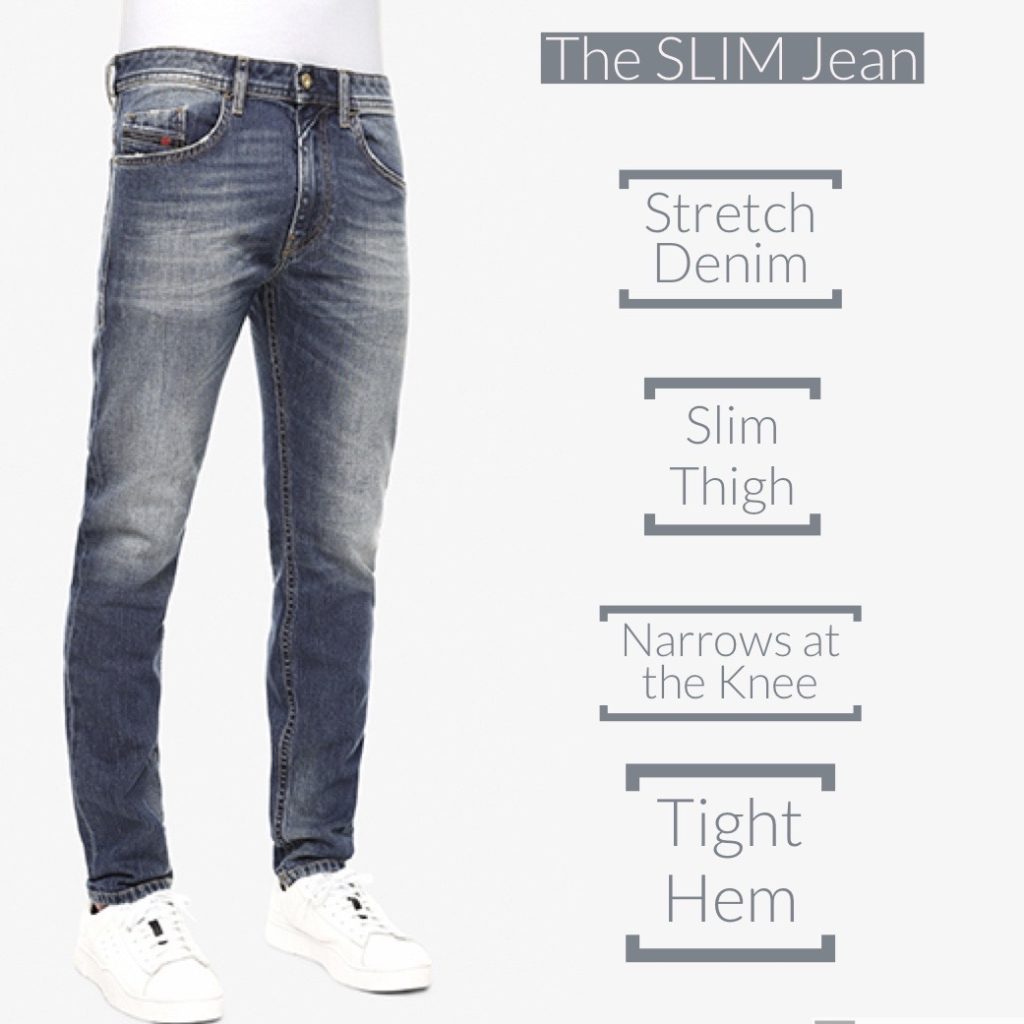 The Skinny Jean
The Skinny Jean, the Sleenker by Diesel, begins tight on the thigh and stays tight all the way down to the hem which again will sit above your footwear, we've found it's often a pair of trainers. The same as the slim we'll only stock a Diesel Skinny if it comes with the added stretch which is usually a 2% elastane mixed with the denim.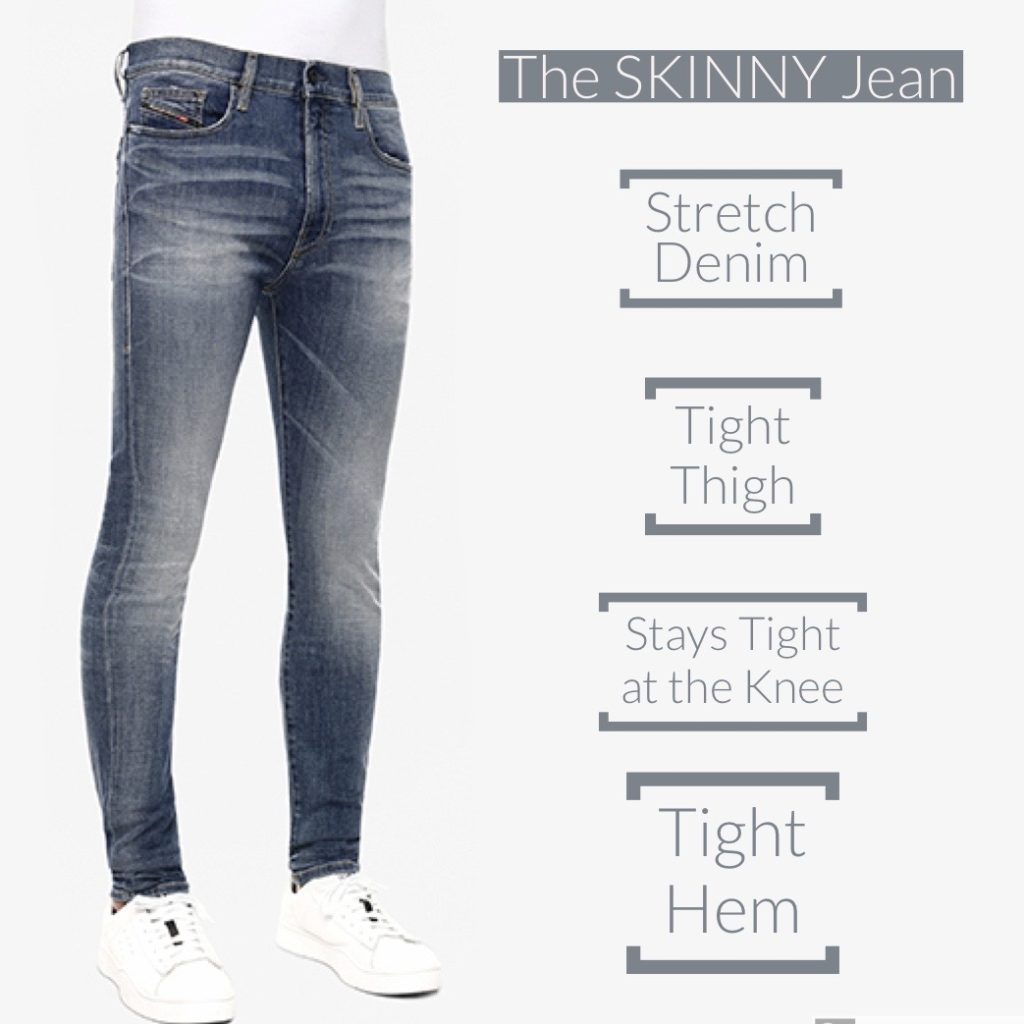 Washes and Materials
Long gone are the days that Denim came in one light stiff stone wash, now jeans came in even more colours than they do fits, and Diesel just happen to be pioneers in new denim technology. Our most recent add on is the 'Stay Black Denim' which is a special fabric which will keep a long lasting pure black colour, as long as the care label washing instructions are followed. Another is the 'Ultrasoft Denim' which is lightweight and super soft that guarantees supreme comfort. Diesel also offer, what we like to call, the 'Dark Blue Smart Denim' without the fades and abrasions, we sell this Jean brilliantly for that smarter occasion worn with a shirt and blazer. Washed out Blacks and Blues are a staple casual Jean colour for us at Apache and we have plenty of colour ways in all the fits for your 'Everyday Jean', a 'coloured Denim' is also something that Diesel have started doing recently which crosses between the realms of Jean and Chino.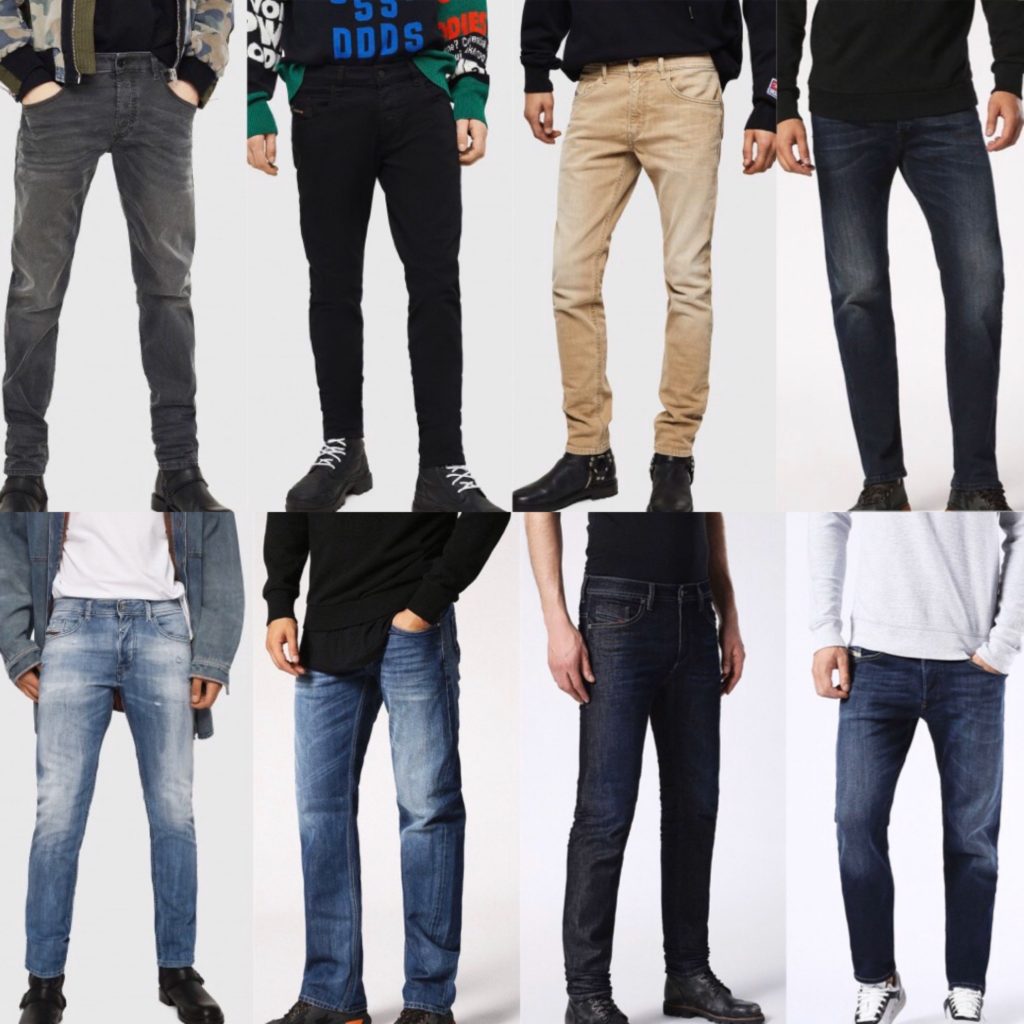 Sizings
Luckily for us Diesel also offer what we like to call the 'in between sizes' on the waist, with a lot of brands and stores they'll do waist sizes 30" 32" 34" and so on.. here at apache with thanks to Diesel we do a 31" and 33" waist so there's not as much of a jump up between sizes. We also stock a short leg (30"), a regular leg (32") and a long leg (34") so we don't leave any one with ankle swingers, and if we don't have your length left and you're buying in store we also offer an alteration service by a professional tailor to get that right length sorted for you.