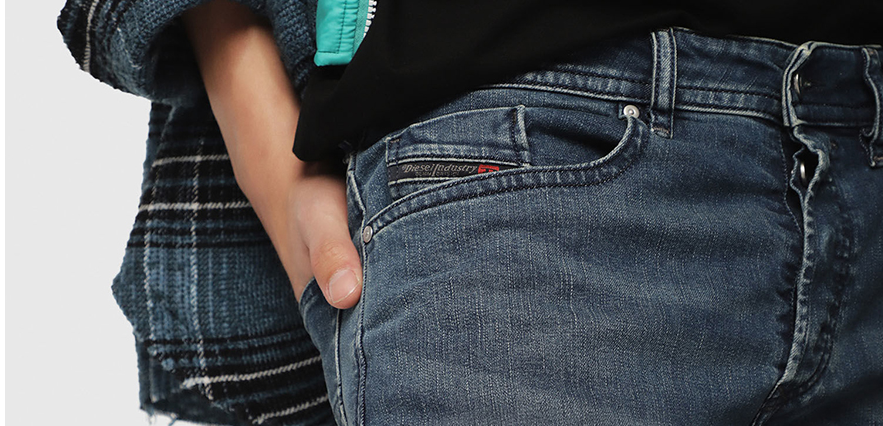 Brand New Diesel Jeans for Spring Summer 2019
apache, 2 years ago
0
4 min

read
183
If there was a Premier League for international denim brands, Italy's Diesel Jeans would be in the Top 4! We've been selling their legendary jeans for over twenty years now, with an incredible amount of repeat business from loyal customers who trust Diesel denim for its timeless style, comfort and quality.
After 20 years of selling Diesel jeans, we consider ourselves to be Diesel connoisseurs. Finding the ideal pair of jeans is far from easy, but with our in depth knowledge and top notch service you're sure to find the best possible fit, wash and size. for you. That also goes for buying a gift for someone!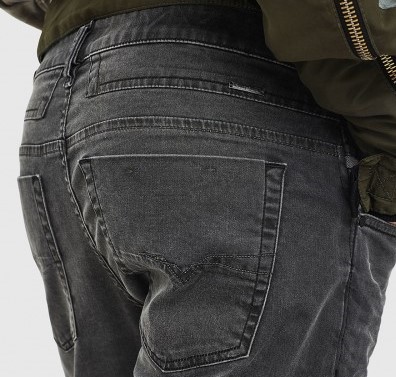 Indeed, quality is the key to Diesel denim; these jeans are built to last for years, unlike cheap and cheerful equivalents. Well known for their amazing fits, most of our Diesel jeans come with a hint of stretch fabric, adding even more comfort to each garment. We are delighted to offer a variety of washes in a generous range of waist sizes (including 31 and 33 inch) and lengths (Short, Reg and Long lengths), be it straight, tapered or skinny fit.
Here's our guide to the very best Diesel jeans at Apache. We hope you'll find the perfect pair!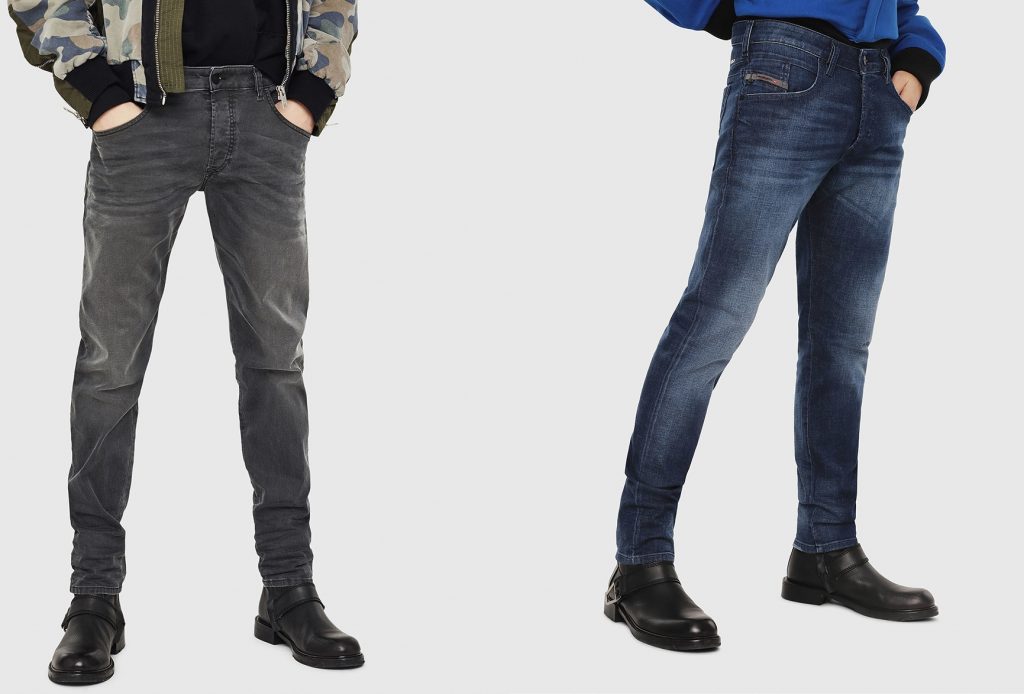 Diesel's new kid on the block for 2019 is this new D-Bazer jean in a classic tapered fit. For those of you familiar with the "Belther" fit, this is the new and updated version. There's a few subtle differences from before, with different yoke, stitching and a new tonal button added to the new jean.
But what really sets this jean apart is the sumptuous "soft touch" denim fabric, incredibly smooth and comfortable to wear all year round. Diesel apply their famous soft spin treatment to the fabric, resulting in a lightweight jean that you can wear even on warm summer days. We're pleased to offer two fabulous new D-Bazer washes in Washed Black and Medium Blue. Waist sizes range from 30 to 36 in Short, Regular and Long lengths.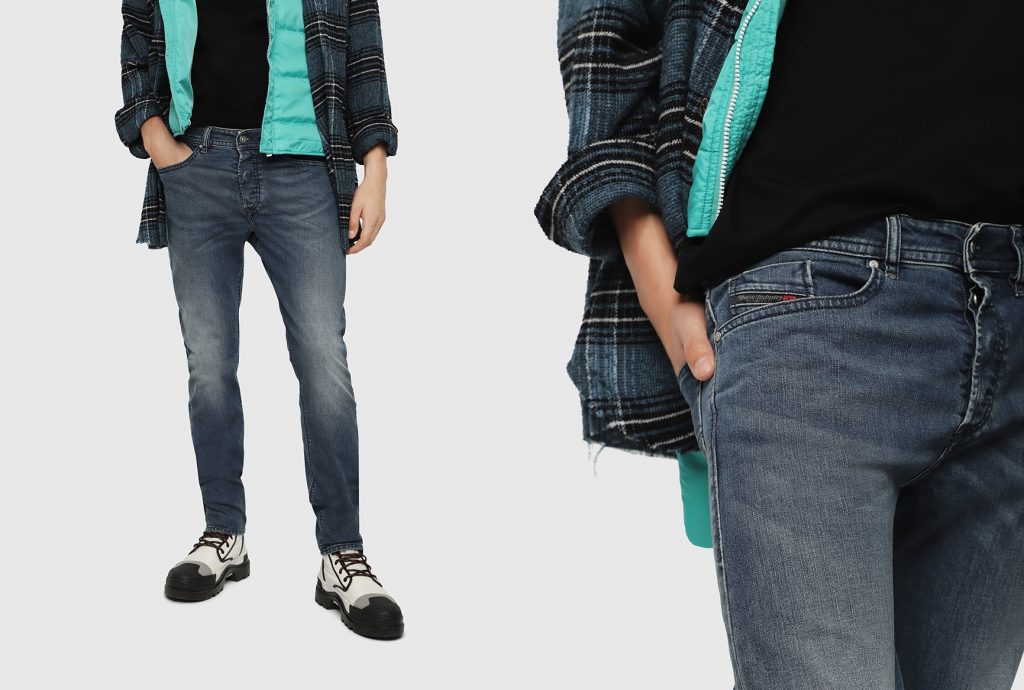 Buster is our go-to regular slim tapered jean, and probably our best selling fit. Beloved by sporty guys with larger thighs who still want that tapered shape that cuts to the ankle, this jean is supremely comfortable on people of all shapes and sizes. That's not our opinion — just ask the hundreds of diverse customers who have bought a Buster jean from us over the years! This brand new "Medium Blue" vintage wash is a true neutral all-rounder that goes with all manner of footwear, T-shirts, sweatshirts… as far as your imagination stretches! We stock this jean in Small, Reg and Large lengths in 30, 31, 32, 33, 34 and 36in waist.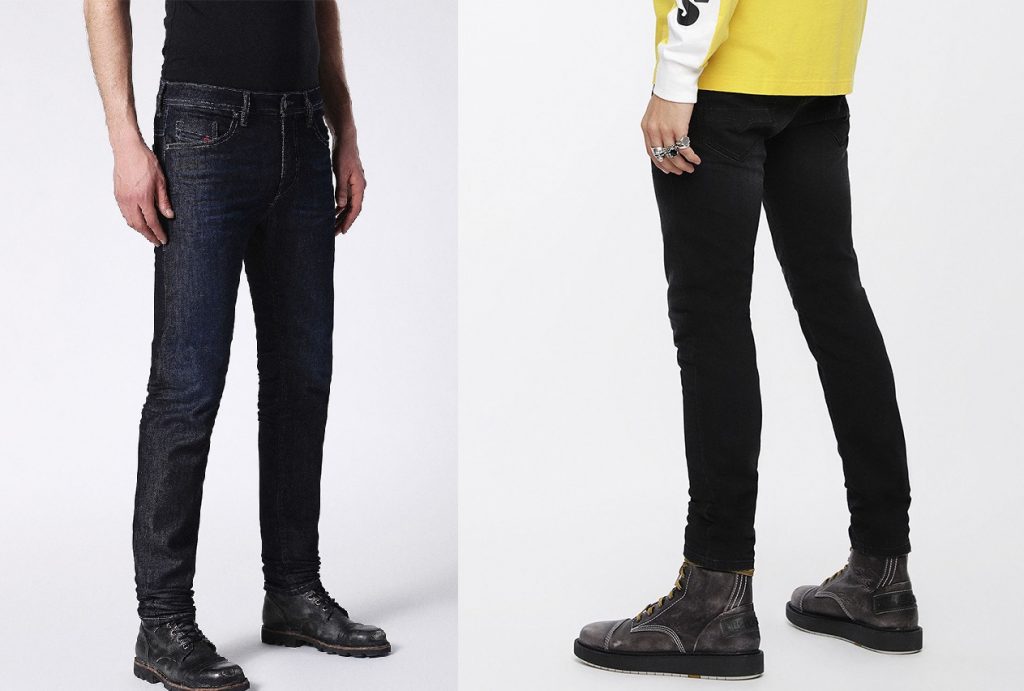 If you prefer wearing a slimmer, slightly skinny jean, then plump for the Thommer fit. This not a skin-hugging, super-skinny jean; there's enough room for you to feel comfortable and flexible. As ever with Diesel, the fit is spot on and even accommodates guys with large, bulky thighs due to the 2% stretch fabric. The slim shape of the jean tricks the eye into making the legs appear a little longer than normal. We offer four different washes in the Thommer, including New Raw (left, £110) and Washed Black (right, £115).
Believe it or not, we've been running Diesel Larkee jeans continuously for 20 years. It hasn't changed a bit in that time, and for good reason: you don't mess with a classic! The Larkee is cut in a classic straight fit from knee to hem, and as such it has a slightly "looser" feel than our other jeans. Perfect for chunky footwear like boots, this is the jean that guys who use to wear boot-cut now buy. We currently offer two washes in this iconic Diesel fit: Blue Rinse (left, £100) and Blue Vintage (right, £120).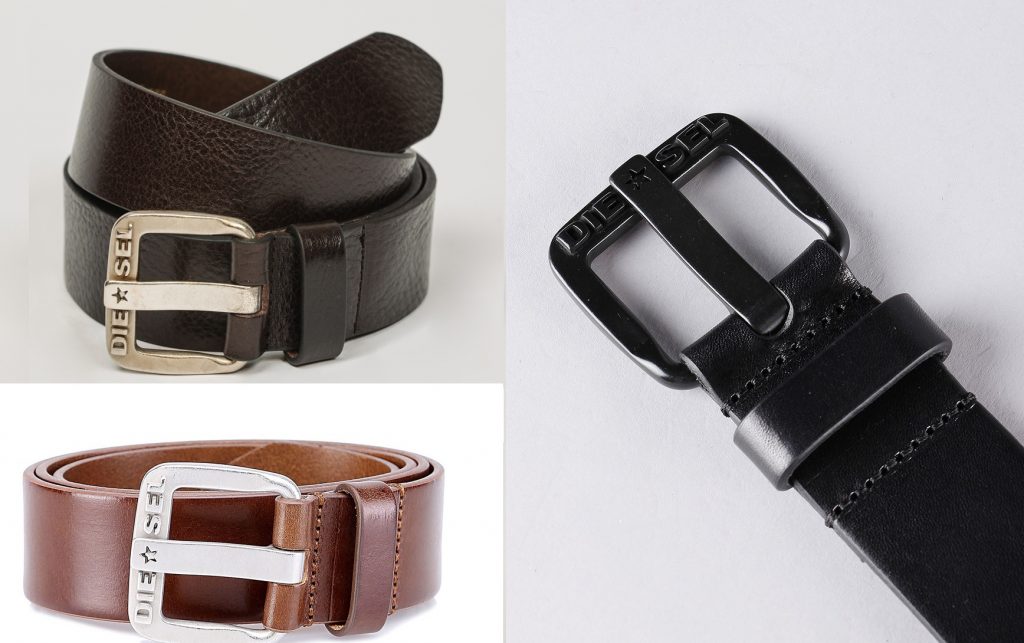 All our Diesel belts are made from real buffalo saddle hide leather. This level of quality means they won't unduly stretch or wear out even after hundreds (or thousands) of days' use. There's nothing worse than a cheap belt that splits over time around the buckle holes! Indeed, these Diesel belts are more like a fine wine, getting better with age as they bruise and soften. Our most popular belts are Diesel's B-Star Belt range, and we offer a variety of colours including Dark Brown, Black and Tan.
In the unlikely event that your new Diesel jean doesn't fit, we offer an alteration service where we will tailor and re-hem using a trusted professional.
Related posts
APACHE MENSWEAR 2021 PLAYLIST
Subscribe to Blog via Email