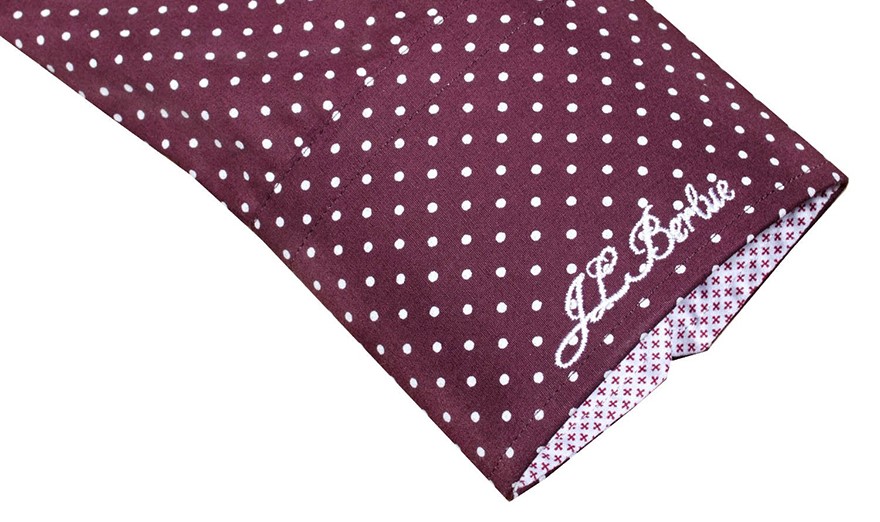 10% Off Any Jiggler Lord Berlue Shirt for AW17 Season
apache, 4 years ago
0
4 min

read
70
It's getting to that time of year when the events come thick and fast — think Christmas parties, end-of-year do's, and even New Year's Eve. At Apache Menswear, we've been kitting out guys for over 20 years, so we are justifiably proud of our smart casual outfits. And when it comes to a smart look, we can't recommend a Jiggler Lord Berlue shirt highly enough.
Jiggler are a newish British brand who have mastered the art of designing classy, flamboyant smart casual shirts for all kinds of occasions — whether you're dressing up for a job interview, or partying with friends and family. And whats more, they launder very well (as told to us regularly!)
Remember to use our offer code JLBAW17 for an exclusive 10% discount on all Jiggler Lord Berlue shirts at Apache!
This may not be the most eye-catching Jiggler Lord Berlue shirt — but that's not the point. This soft cotton garment is ideal for the dress down days at the office for those who care about looking sharp. The attention to detail here is just what you'd expect from Jiggler: the retro printed patterns, the single mitred cuffs, and the subtle contrast trim on the placket. It also comes with a cut away button-down collar in case you decide to wear a tie. Above all, the high-quality cotton fabric is supremely comfortable, ideal for wearing all day at work. Sizes range from Medium up to XXXLarge, all in Jiggler's popular semi-tailored fit. Also available in White.
Now we're entering more flamboyant territory! Some garments just hit you right away with their bold, brilliant design and eye-catching patterns, and this polka dot Jiggler Lord Berlue shirt is one of them. The rich burgundy colour is the perfect compliment to the white retro pattern, and the contrast lining on the collar, placket and cuffs is equally stunning. There's a classic button down collar, JLB branded buttons, and a flattering semi-tailored fit. Match this with a pair of jeans and you'll be the envy of everyone in the club. Sizes from Medium up to XXXLarge.
A darker Jiggler Lord Berlue shirt, with brooding colours that play off one another superbly. The "Herringbone" Self Woven Fabric is the highlight here, as well as a truly stunning contrast lining. This shirt will compliment most checked blazers, or even suits if you need to dress up. The cut away collar also sets this shirt apart from the rest and will easily take a tie should the need arise. Our customers have worn this shirt with chinos and dark jeans for a classic smart casual look. Already a hugely popular garment among our loyal customers, we're confident that this shirt will be a highlight of your wardrobe for years to come. Sizes from Medium up to XXXLarge.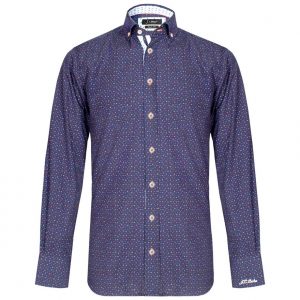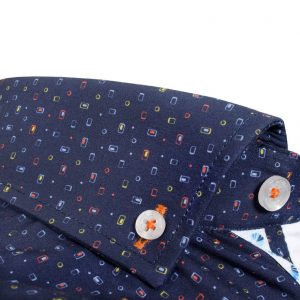 We simply love the colourful retro patterns on this shirt — and judging by our sales this Autumn Winter 2017 season, so do our customers! It's a true party shirt without being too flamboyant, and comes with all the classy touches you'd expect from a Jiggler Lord Berlue Shirt. Check out the orange stitching around the buttons, the bright-coloured lining with "fan" details, and the fancy double mitred cuffs. A right "bobby dazzler " we think you will agree. Sizes Medium up to XXLarge.
Last, but not least, is this micro print shirt in Navy. The fine geometric patterns look great both up close and at a distance, making this a very versatile shirt. The cut away button-down collar looks as sharp and smart as anything in the Jiggler range. Pair of Dark Diesel jeans, Simon Templar blazer and this shirt and your off for that day at the races or maybe a work function. Not forgetting the Tan brogues to complete that look. Sizes from Medium to XXXLarge.
Our special offer code JLBAW17 will get you 10% off all Jiggler Lord Berlue shirts. Just type it in at our online checkout.
Related posts
APACHE MENSWEAR 2021 PLAYLIST
Subscribe to Blog via Email