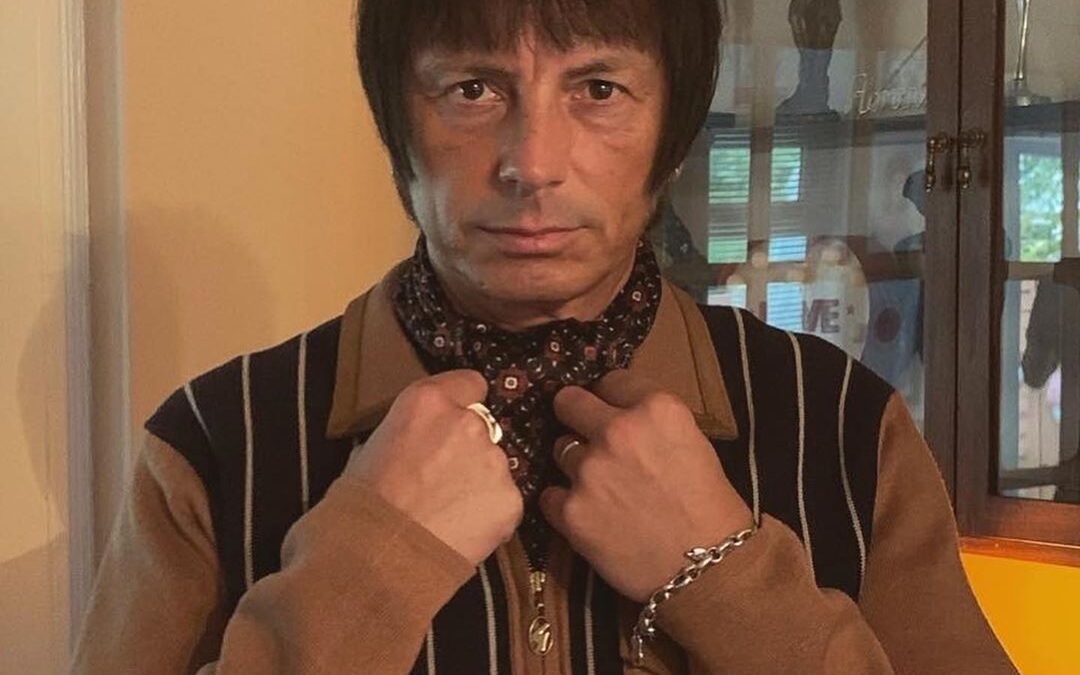 Darron Connett-One From The MOD(ern)
apache, 3 weeks ago
0
5 min

read
560
In this weeks Apache Menswear blog we speak with to Darron Connett, a man that really does combine music, fashion and style.
Darron Connett is someone you may not have heard of but once you've heard his music, you'll know the songs and recognise the voice! Whether it through spotting him on the Fred Perry website talking about his love of music and clothes, or listening to his latest album Darron is becoming a noticable face on the scene.
A friend of the store, we settled down in front of our laptops for a quick virual chat!
INFLUENCES IN MUSIC
Thanks for taking the time to talk with us! For those that don't know-who are you and what do you do?!
Absolute pleasure. My names Darron J Connett. Sometimes frontman with The Last of the Troubadours which includes Joel Rogers ( partner in crime) Tony Marshall (the Rascallions) Rob Pyne( the rifles) Luke Jeffries ( FOURS) Solo artist with two albums under my belt that I write with Paul Hancock & Phil Sorrell at caretaker studio. Bit part actor, model & whatever other nonsense is thrown my way. Media whore basically! Oh and features writer too, done a bit of that!
Who would you say your musical influences are?
I'd say anyone that's ever put a record out or formed a band cause trust me it's not easy, and to make a career or success out of it is something else. I've so many but currently for my solo stuff it's been Bowie, Kate Bush & Scott Walker.
INFLUENCES IN FASHION
What about fashion influences?
I'm not really into fashion or trends but I love style & I draw those influences from the mod, casual type stuff although I'm known to throw a curve ball in & go full on indie. I think you should be able to dress for every occasion.
What labels do you like to wear?
I love a bit of Fred Perry especially the reissues range. Gabicci too at the moment new & vintage. Levi's with a nice pair of clarks wallabee weavers & a pretty green smock is my day to day wear. Love an Art Gallery knit too with a soho scarf for the chillier days.
Is Apache Menswear somewhere you shop? If so, what brands do they stock that get your attention?
Absolutely, they tick all the box's for me by stocking some of my favourite brands. Gabicci & Fred Perry. Great store. I love it.
MUSICAL DREAMS AND MOD(ERN) EMBARASSMENT
Thanks for the kind words!! Let's go Back to music now. If you had to pick three albums that you could keep forever but it meant listening to nothing else, what would you be choosing?
Hunky dory by David Bowie. Scott 4 by Scott Walker. Definitely maybe by Oasis. That's a hard one to answer.
Who would your dream tour be with?
The Rifles. TLOTT have been on tour with them before and we loved it. They are top lads & mates too so it's always a good laugh, I'll go on tour with anyone to be honest.
What's the most embarrassing gig moment you can remember?
There have been far too many of those, but when a girl jumped up on stage topless & chased me around the stage, that was an eye opener!
Ha! Amazing! What about the best gig you've done?
My favourite gigs have always been at the famous 100 club whether it's solo or TLOTT. It's always monumental for me because of the rich heritage.
DREAMS AND MEMORIES
Any gigs you've been to as a punter and been blown away?
Hundreds of times I've been blown away at gigs. In fact a gig for me is the nearest I'll get to a sermon! It's a real spiritual moment for me watching your favourite bands. Oasis has bought a tear to my eye as has Paul Weller (the original Mod-Father!) Richard Hawley & Marlon Williams normally do the trick too.
I never saw Oasis live but have seen Liam and Noel on their solo tours. Been lucky enough to see Weller too. Oasis actually shopped in Apache menswear when recording in Loxwood and spent a fortune!! Anyway, back to you- What are your future plans?
Right now I'm hoping to finish my 3rd solo album that I started last year but was stalled by the 20/21 lockdowns. I've been writing with the last of the troubadours to hopefully get an album out in 2022 & do a little tour as our reunion gig last year went with a bang. It would be good to do that again, I try not to get a definite plan as the never work out but I definitely plan to keep moving forward.
THE FUTURE
Any bands we should be looking out for?
Yeah band wise I like the skinner brothers & the dirty English they should be every teenagers favourite bands at the minute. I'm constantly looking for new bands, artists & it's amazing how much great stuff there is out there. Got loads of mates doing good stuff too. To be creative is a wonderful thing.
Before I let you go, where can our readers, customers, fans or friends find more of you if they want a listen?
I'm on the usual streaming platforms like Spotify etc & social media malarkey. If anyone wants vinyl or cd's contact djcmusic@hotmail.com
Cheers Darron, hopefully we will see you in store soon picking up some Fred Perry or Gabicci Vintage!
Lovely catching up with you many thanks.
Become an APACHE VIP and find out about new releases, special offers and VIP only discounts!
Related posts
APACHE MENSWEAR 2021 PLAYLIST
Subscribe to Blog via Email