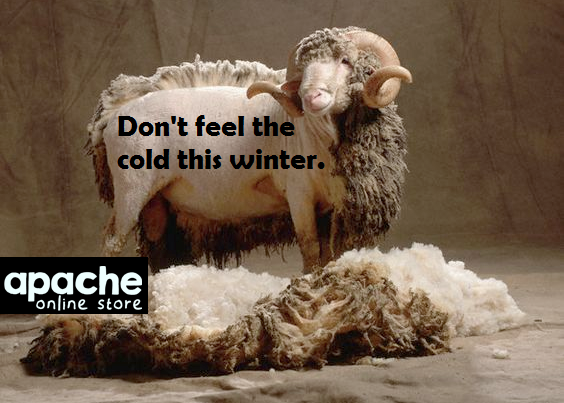 Classic Knitwear at Apache – 10% Off Top Brands
apache, 6 years ago
0
4 min

read
1646
Here at Apache, knitwear has long been a staple garment for our loyal customers. Fortunately, with winter just around the corner, many of our favourite brands have brought out a wide range of knitwear for #AW16. As always, competition is intense, and the quality of this year's arrivals more than lives up to expectations. We've picked out our favourite new knits from four great brands, each offering something a little different. But what they all have in common is three things we pride ourselves on at Apache – quality, style, and value for money.
The beauty of knitwear is that it works with almost everything – you can throw it over a classic polo shirt, or match it to a stylish smart casual shirt. Many of our coats and jackets are designed to allow for layering, so that in colder months you can wear even a thick piece of knitwear underneath. Our four chosen knits give you all kinds of options and ideas – so be inventive!
Most of our picks use lambswool and merino wool – both extremely high quality knits. Both materials have the antibacterial chemical "lanolin" for long-lasting freshness, and offer offering naturally breathable and moisture-repellent qualities. Needless to say, the warmth-to-weight ratio of all these garments is remarkable.
We're now offering our customers a fantastic 10% discount on all knitwear, with the code "KNITAW16."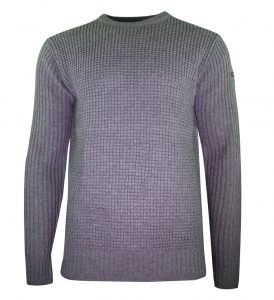 This brand new "waffle" Crew Textured Knit from Duck and Cover is perfect for when temperatures drop. Duck and Cover call it a "Fisherman" style, taking its heritage from old Ireland. Irish fishermen's wives knitted these warm, comfortable garments to protect their men from the harsh Atlantic weather, and this practical style has proven popular in today's menswear market. True to its Gaelic heritage, this garment is named "Oban", after the wind-battered town in the Scottish Highlands. Made from a high quality wool mix, it boasts lovely detailing, including ribbed cuffs and welt for a distinctive finish. The styling is simple and homely, and the regular fit earns compliments from many of our customers. Sizing ranges from medium to extra large, and the garment is also available in Deep Navy.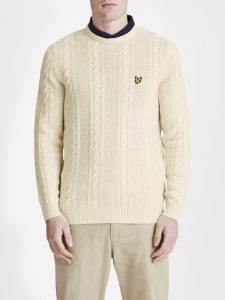 This sumptuous Ivory cable knit from Lyle and Scott is made from 100% lambswool, lending it an incredibly soft and comfortable handle. Lambswool is used sparingly by top brands due to its exceptionally high quality fibre, and we encourage all our customers to take the opportunity. The "virgin" wool is highly breathable, holds it shape remarkably well, and allows designers to weave beautiful knits. Lyle and Scott started life as a Scottish knithouse, so their Lambswool Crew combines the heritage and expertise you'd expect. It is mid-weight and is perfect with a light underlayer, and is equally at home with a polo-shirt or smart casual shirt. Sizing ranges from small to extra large, and we also stock Mid Grey and Navy versions.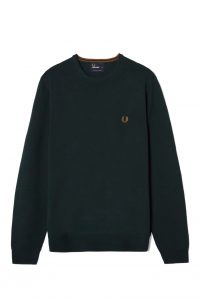 This remarkably lightweight-but-warm merino wool knit from Fred Perry has long been a favourite of many of our customers. Merino wool originates from Australia and is legendary for its softness and fineness, as well as its incredible thermal properties. Increasingly harnessed by quality menswear brands, merino wool easily beats any man-made or cotton knit on the market for temperature regulation, breathability and moisture control. With this Classic Crew Neck Knit, Fred Perry bring its renowned heritage into play to create a perfect match of British style with natural technology. It features the famous laurel wreath logo in contrasting colours, and classic twin tipping at the back of the neck. As well as our featured Racing Green, this garment also comes in Dark Carbon, Graphite Marl and Licquorice Marl.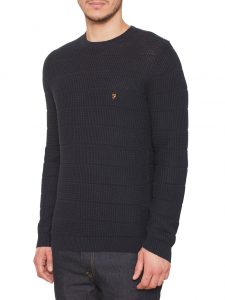 This all-year-round knit from Farah boasts a superb textured knitted tonal stripe design. Made from 100% cotton, it is warm, light and comfortable and comes in a classic regular fit. Like the Oban from Duck and Cover, it has a ribbed crew neck, cuffs and welt, and allows for a wide choice of under-layers. We're especially fond of the True Navy colour, which matches to all manner of jeans and chinos. Our available sizing ranges from small to extra large.
So don't just take our word for it – head over to Apache online or to our shop in Horsham and claim an exclusive 10% discount on all knitwear with the code "KNITAW16". Happy shopping!
Related posts
APACHE MENSWEAR 2021 PLAYLIST
Subscribe to Blog via Email