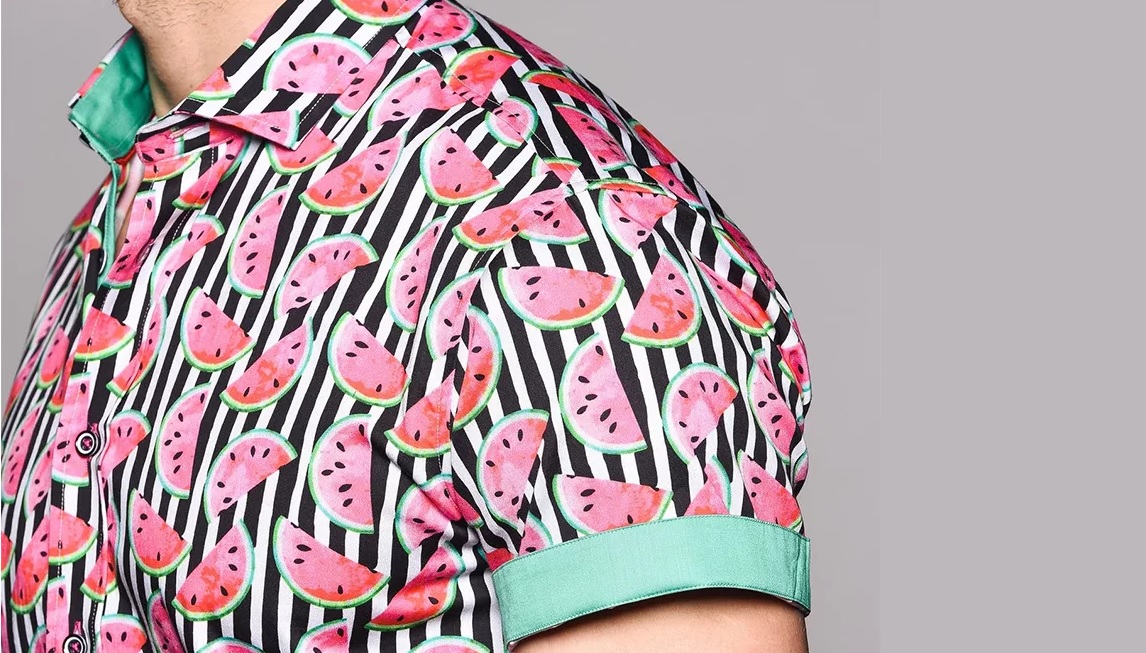 More of our casual menswear for Summer
apache, 2 years ago
0
4 min

read
60
We're into May now, and average temperatures are looking good! We've had so many customers dropping in for a new summer outfit, be it for a Mediterranean holiday or for enjoying the great British summer.
In this blog we've picked out seven stunning garments for your summer wardrobe, from smart short sleeve shirts to practical cargo shorts. Read on for our expert reviews…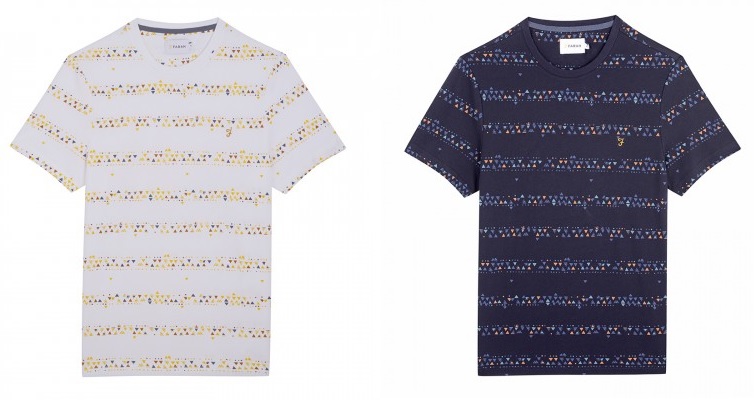 This Farah T-Shirt has flown out since arriving at Apache for Spring Summer 2019! Our customers love the micro-triangle "Aztec style" patterns on both the White and True Navy versions, a unique Farah design for this season. Made from quality 100% jersey cotton in a semi- regular fit, this T-Shirt is comfortable and breathable in equal measure and ideal for the warm summer days. Choose your size from Small to Extra Large.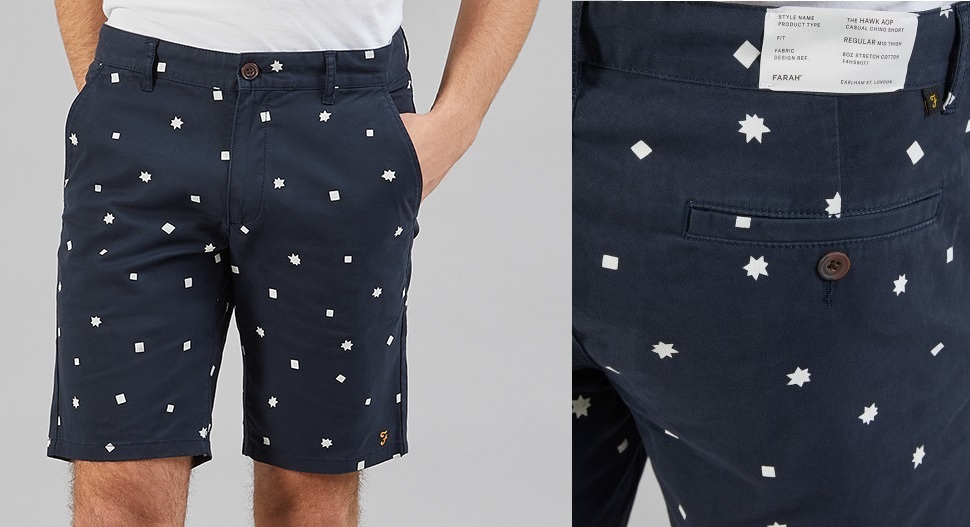 When we unveiled this new season chino short by Farah, it was love at first sight. Not only does it look fantastic — with a unique "shapes" pattern for SS19 season — but the 8oz fabric is remarkably lightweight and ideal for wearing throughout the summer or indeed away on holiday. Don't take our word for it: just ask the dozens of our customers who have bought a pair and rave about the comfort and quality! Farah have included some nice little touches, such as belt loops (see our range of quality saddle-hide belts here) and button back pockets for added security. Our waist sizes are as follows: 30, 32, 34, 36 & 38 inches.
Also new for Spring Summer 2019 is a similar Farah chino short made from a sumptuous twill cotton fabric and boasting a fun summer print. It's the same regular comfortable fit as the other Farah chino, also from 30 to 38 inch waist. If you'd prefer a plain chino short by Farah, we stock them in in three colours!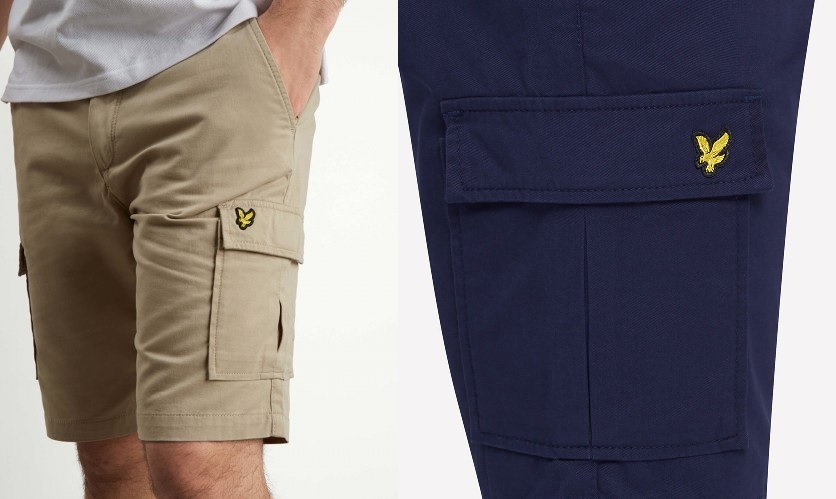 If you're after a pair of summer shorts with more of a practical edge, Lyle & Scott is your best friend. This new cargo short in Stone and Navy ticks all the boxes for a stylish and practical short, great for long walks and hikes on your holidays or simply for those who prefer the extra security and convenience of having multiple pockets. Made with a hint of stretch for added comfort and flexibility, there are six pockets in total: two button back pockets, two side pockets and two velcro-sealed leg pockets. Sizes are the same as the Farah shorts – 30 to 38 inch waist in 2-inch drops.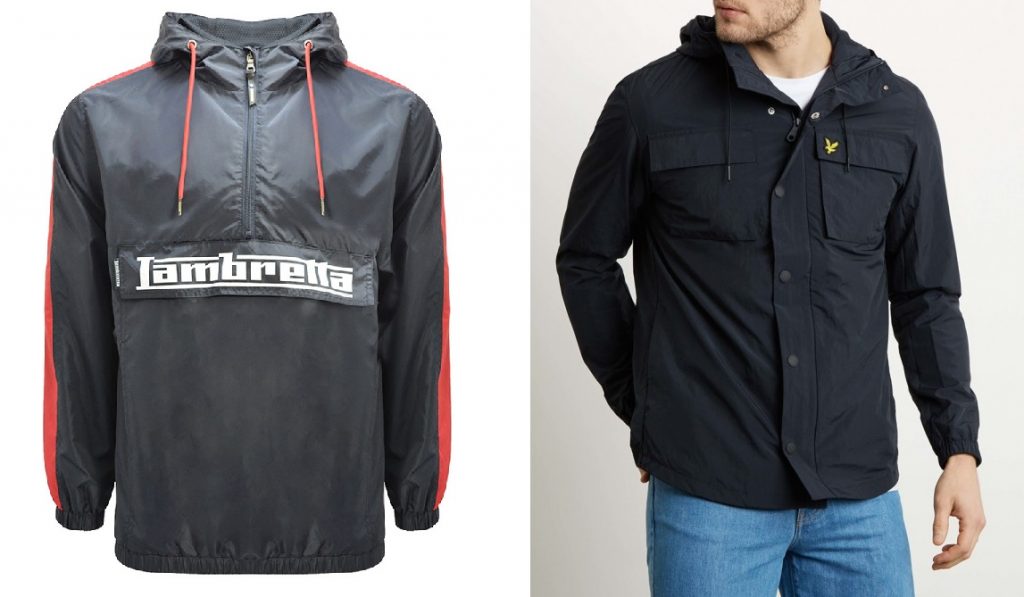 Even in summer it's essential to have a lightweight, showerproof jacket to throw on when required. We're delighted to unveil a new overhead jacket by Lambretta, an enduring vintage brand that has been fantastically well received on its return to Apache this year. The sporty contrast sleeve panels and half-zip design bring back memories of 1970s/80s football casuals gear, with a bit of Mod heritage thrown in. But the highlight is a classic "kangaroo pocket" adorned with the iconic Lambretta logo. There's also an adjustable drawstring hood to keep the elements out. At only £40 this jacket is unbelievably good value! Sizes range from Medium to XX Large.
Our second pick is a stunning spring-weight jacket in Dark Navy by Lyle and Scott. Boasting two large front pockets big enough for a large smartphone, a drawstring hood and a quality mesh interior lining. There's also a front zip and pop button combo for double protection against the elements. Sizes range from Small to Extra Large.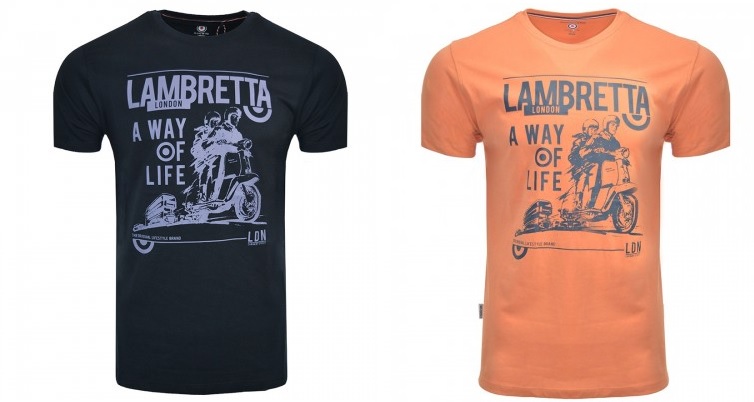 These Lambretta T-Shirts have proven immensely popular with Apache customers since arriving a couple of months ago. Sporting an iconic "Scooter" print with a classic London scene, it's 50 years of heritage distilled into one T-Shirt! Choose from two colours in this print (Navy and Carnelian Orange), or take a look at the other patterns in the Lambretta "Scooter" T-Shirt range. All the T-shirts have the world-famous Lambretta target logo on the sleeves. Sizes range from Small to XXX Large.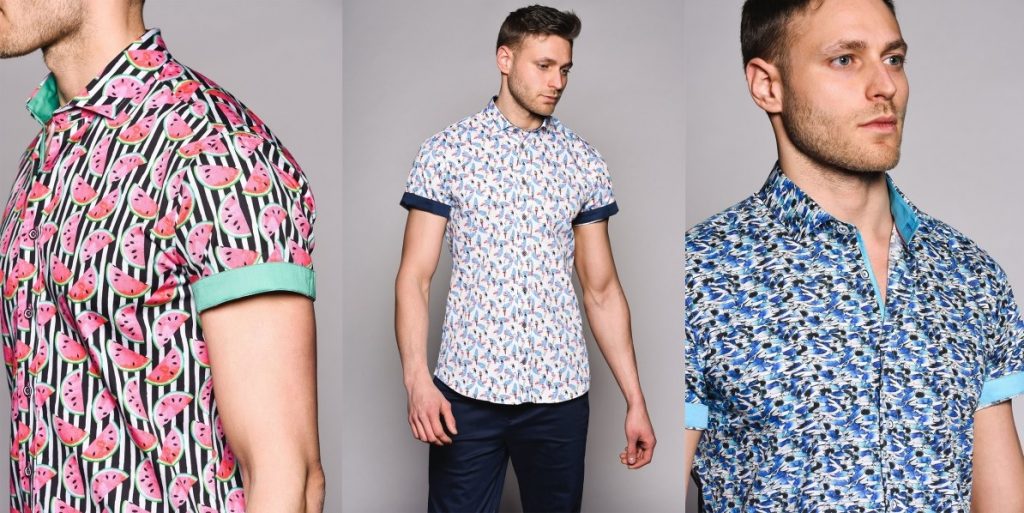 Welcoming another flamboyant set of new Jiggler Lord Berlue shirts, these short sleeve Bobby Dazzlers are a smart casual essential for your summer wardrobe. Featuring an incredible attention to detail that we've come to expect from the Manchester brand, all three shirts are made from 100% superfine cotton in a popular semi-tailored fit (as opposed to a true slim fit that many guys find too tight.) These shirts also boast contrast turn-back sleeves to match under the placket and collar, as well as a hidden under-collar button down detail to keep things nice and smart. Choose your size from Medium to XX Large.
Related posts
Deals
,
Discount
,
Discount Code
,
Farah
,
Farah Clothing
,
Farah Vintage
,
Fashion
,
Fashion News
,
Fashion Review
,
High Summer
,
Holidays
,
Horsham
,
Knitwear
,
Menswear
,
Menswear Mix
,
new season
,
Outerwear
,
Outfits
,
polo shirt
,
Polo Shirts
,
Sale
,
Shirts
,
Shorts
,
Spring 2020
,
Spring Summer 2020
,
ss20
,
Summer
,
Sweatshirts
,
T Shirts
,
Uncategorized
25% Off Farah @ Apache Menswear
APACHE MENSWEAR 2021 PLAYLIST
Subscribe to Blog via Email