You've seen our new Fred Perry and Farah menswear picks for 2017 — now it's time to choose the perfect Jiggler Lord Berlue shirt!
Jiggler is probably our most eccentric and eye-catching brand, and we're delighted to introduce these four unforgettable new Spring Summer 2017 shirts. The theme of springtime runs through all these garments, with bright colours, flowers in bloom, and short sleeves in full use.
Ever inventive, Jiggler have certainly pulled out all the stops this year. Use our exclusive offer code JLB2017 for a fantastic 10% off all new Jiggler shirts!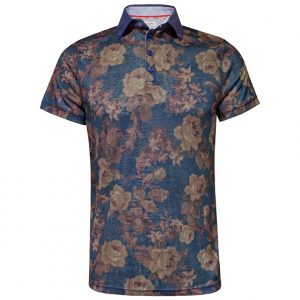 Let's kick off with something different – a "smart" polo shirt. The Mains polo shirt is constructed from soft jersey cotton, and feels noticeably different to the touch. Like Jiggler's smart casual shirts, there's a proper cotton poplin button-down collar — and in this case boasting a three button placket. The garment features a beautiful, dark floral print all over, with a classic retro lining. Best worn with a blazer or a pair of smart jeans.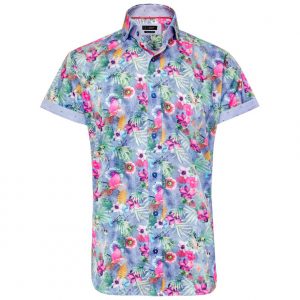 This short sleeve Jiggler Lord Berlue shirt just screams "Holiday!" Indeed, it's perhaps the most eye-catching of their 2017 crop. Featuring a cut away collar with matching turn-back cuffs, this bright floral shirt boasts a cheeky nature-inspired pattern. Equally at home with a pair of tailored shorts, as with jeans. The colours are vibrant, the fit is semi-tailored, and the craftsmanship superb — what are you waiting for!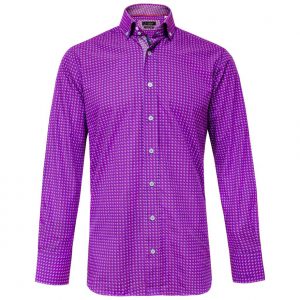 Now here's a Bobby Dazzler of a shirt! You won't have trouble getting noticed in this vibrant purple Jiggler Lord Berlue shirt, a semi cut-away button down. The all-over bright retro print is complimented by a tonal matching print on the lining. Always inventive, Jiggler have added a few extra design flourishes, such as a 2 button mitered French cuff and a 2 button collar.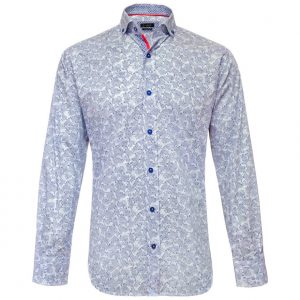 A more restrained, tonal look to this Jiggler Lord Berlue shirt. The fine tonal print incorporates scenes from nature – flowers, bunches of grapes, leaves – which look great from any distance. Like all these new shirts, there's a self-coloured JLB logo embroidered on the cuff as well as a complementing lining in the cuffs, collar and placket.
Check out the full range of new JLB shirts via the Apacheonline store — and use the offer code JLB2017 for 10% off!