There's no sporting event that captures the spirit of British summer like Wimbledon! There's the famous rivalries, strawberries and cream, champagne, pimms and of course the fashion! Needless to say, with 6 days to go we're getting in the SW19 mood with our collection of sporty track tops, T-shirts and polos.
From iconic Wimbledon brands like Sergio Tacchini and (of course) Fred Perry, to famous British heritage brands like Lyle & Scott and Trojan, our range is bursting with sports-inspired gear.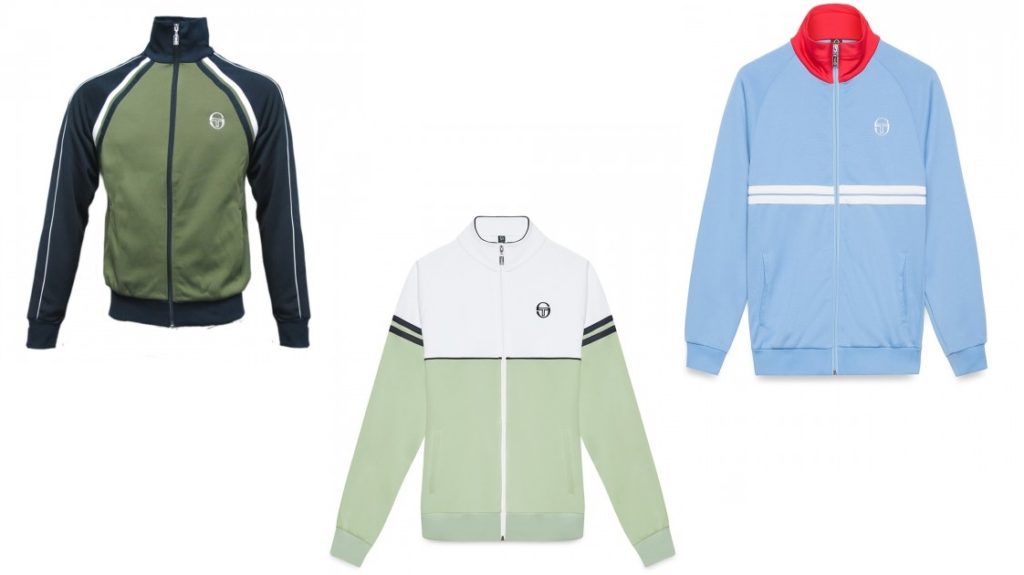 Some of Wimbledon's greatest have won Sergio Tacchini both on and off the court: John McEnroe, Goran Ivanisevic, Novak Djokovic etc. We're proud to offer a range of comfortable track tops that would suit any of these champs in their prime. All these Sergio Tacchini track tops boast a classic zip funnel neck, two front pockets, cut-and-sewn panels and sporty twin piping in various styles. Ideal for the mild, grey summer days that are (unfortunately) such a feature of Wimbledon! Sizes are as follows — Ghibli: Medium & Large / Orion: Medium to XX Large / Dallas: Medium to XXX Large.
It doesn't get more "sports casual" than this! We love the stripe detailing on the cut-and-sewn raglan sleeves, positively oozing a retro vibe. It also boasts a subtle "needle dropped" ribbed weave, giving it a distinctive handle and setting it apart from your run-of-the-mill polo shirts. We recommend pairing these polo shirts with a light-weight jean and Fred Perry trainers for the ultimate summer outfit. Available now in Navy/Royal (Medium to XX Large) and White/Red (Small to Large).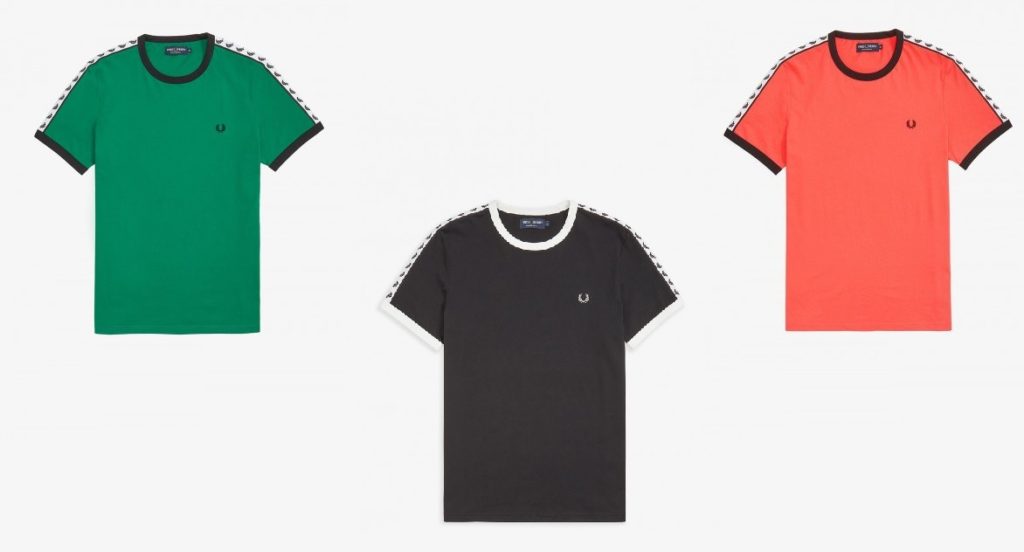 Quite simply one of our all-time best-selling garments, the Fred Perry Taped Ringer T-Shirt is a true Apache classic. Graced down the sleeves with the iconic "laurel wreath" logo, a look synonymous with the Wimbledon Championships and the great man himself. We're always on the lookout for the newest colours, and this season Fred Perry has lived up to expectations with the eye-catching pair of Pitch Green and Tropical Red. There's also old classic such as Black and Carbon Blue for the traditionalists. Get your favourite colour now in Fred's classic regular fit from Medium to Small to XX Large.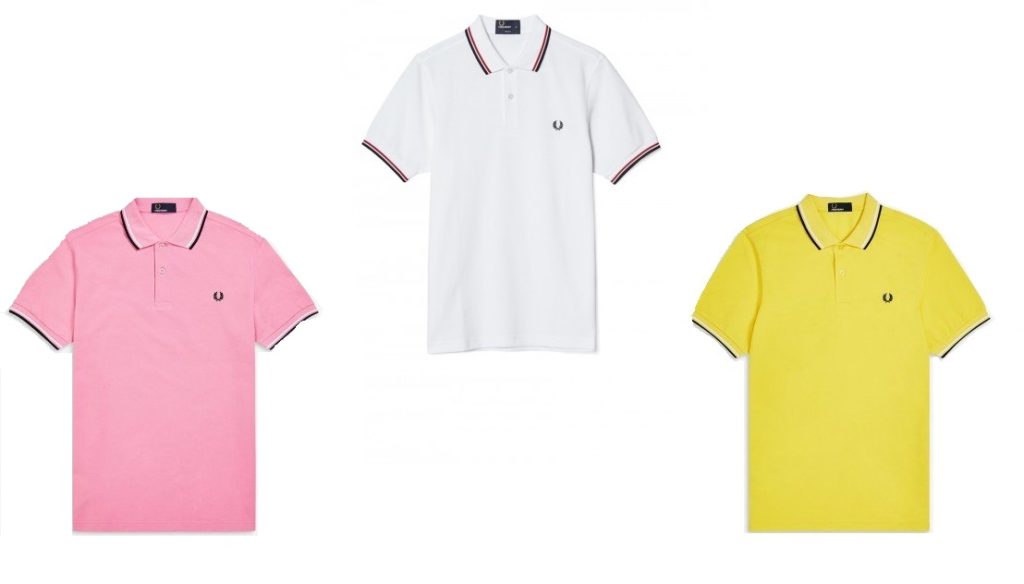 Does any garment scream "Wimbledon" quite as loudly as the Fred Perry Twin Tipped Pique Polo in White/Red/Navy? This classic colour combo is one of the original garments from back in the day when Fred Perry ruled the court. But that's just one of nearly 20 colours in the M3600 polo that we stock at Apache, including a clutch of brand new High Summer 2019 arrivals. Our favourite is Electric Yellow (right), a great summer option and certainly one for the colour completists — and boy, do we know a few! Most colours are available in Medium to XX Large, with the occasional Small and XXX Large (please check via the online shop or send us a message to reserve your size.)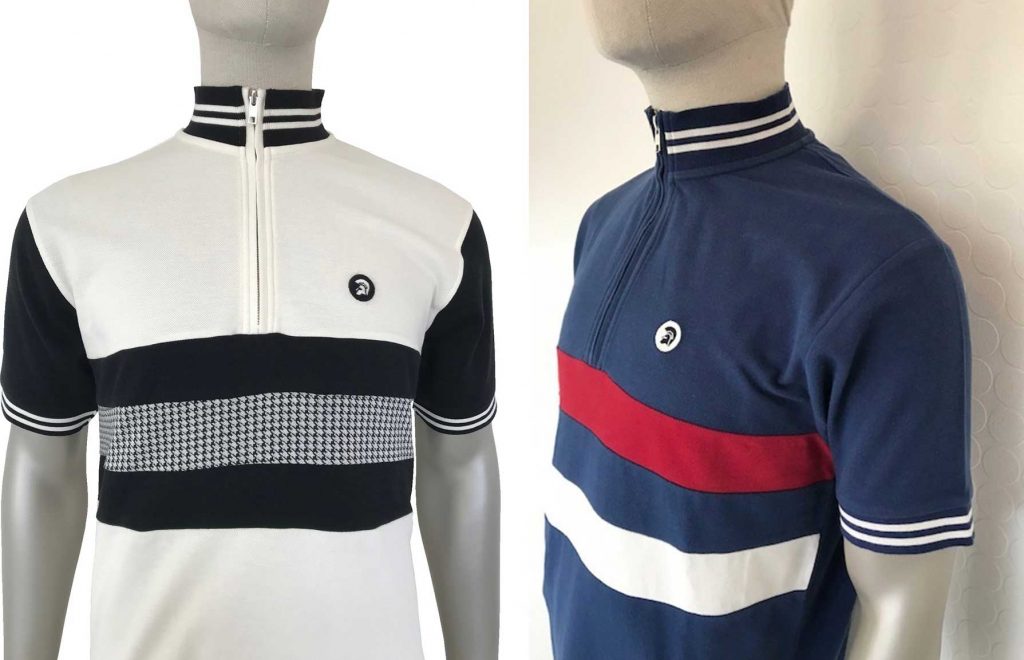 From tennis to cycling… here's one for the Tour de France fans! Trojan Records are synonomous with ska, reggae and 2-tone sub-cultures from the 1970s and 80s, but their menswear also takes inspiration from professional sport. These "cycling polos" feature sporty twin striped on the funnel neck and cuffs, a 1/4 zip and cut-and-sewn panels across the front (one Houndstooth, one Electric Blue.) Local legend and Apache customer Jimmy Balito loved these so much that he bought one to wear on ITV's the Voice! Sizes range from Medium to XX Large.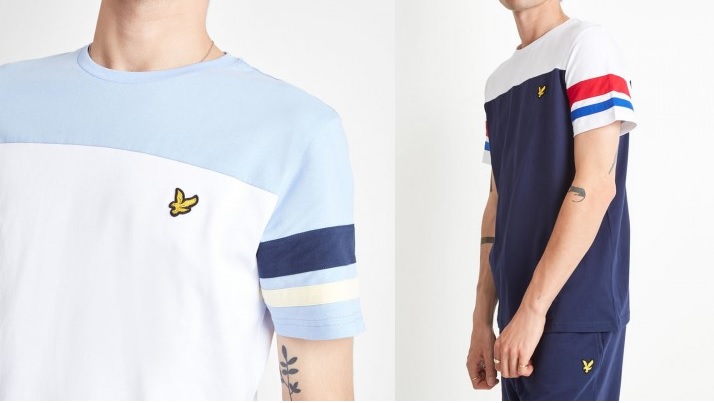 Lyle & Scott is one of our biggest brands with a huge loyal following among Apache customers. They're already raving about this new arrival — we've sold an incredible amount already! The red, white and navy contrast band stripes on the sleeves remind us of the France '98 World Cup when Zinedine Zidane sealed his legend. Made from a comfy 100% cotton fabric, this T-Shirt will keep you cool on even the hottest summer days. And you know the quality is top notch by the cut-and-sewn panels, unlike so many cheap printed T-shirts! Sizes range from Small to XX Large in White (left) and Navy (right.)