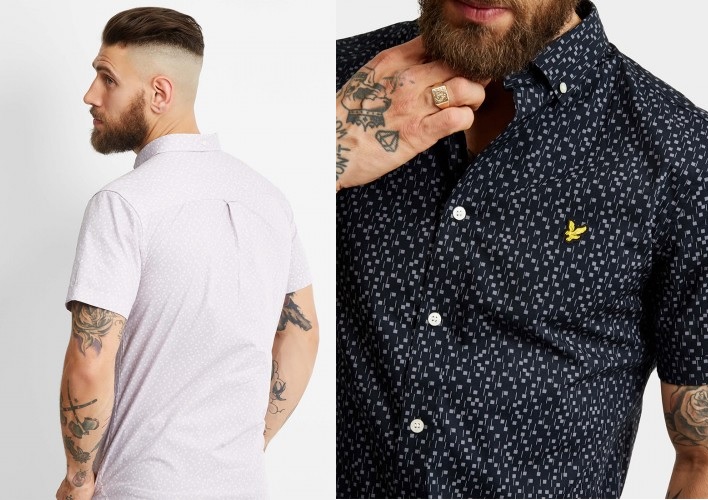 With barely a week or two until schools and colleges break up, it's time to think about what to pack in your summer holiday suitcase! At Apache we're old hands at selecting the best warm-weather clothing – after all, we've been trading for 26 summers and counting!
Unlike the "big boys", who always seem to be moaning, we don't put out Autumn/Winter arrivals until the actual Autumn – what a revolutionary idea! We will stick with our Spring/Summer collection while stocks last.
This blog covers the whole range of summer holiday styles, from smart to casual, swimming pools to nightclubs. So, without further ado…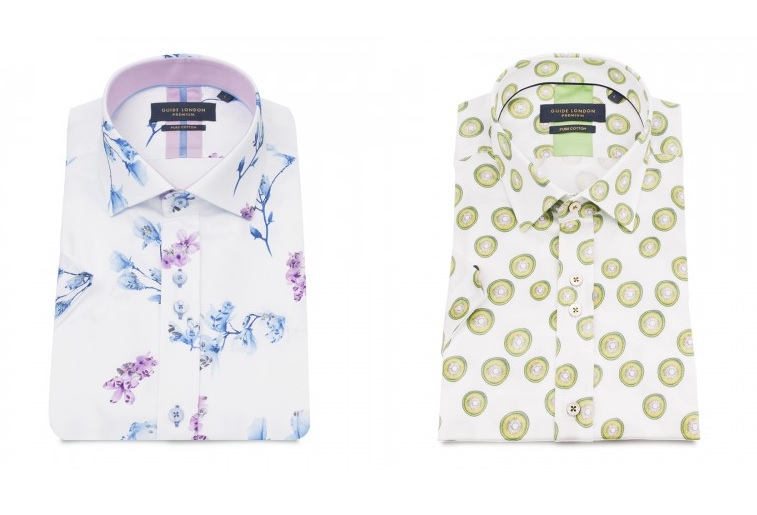 Guide London made their name with stunning shirts for stag weekends, days at the races, and even weddings. In short, we at Apache call it "smart casual." Here's a couple of short sleeve specials to turn heads anywhere you go this summer. Made from 100% sateen cotton and boasting a super-soft handle, these shirts are immaculately made and will keep you nice and cool in even the hottest conditions. Like all Guide London shirts, the garment is cut in a fairly slim semi-tailored fit, smart but not too snug. Sizes range from Medium to 3XL – if you prefer it a bit "looser", we suggest buying a size up due to the fit.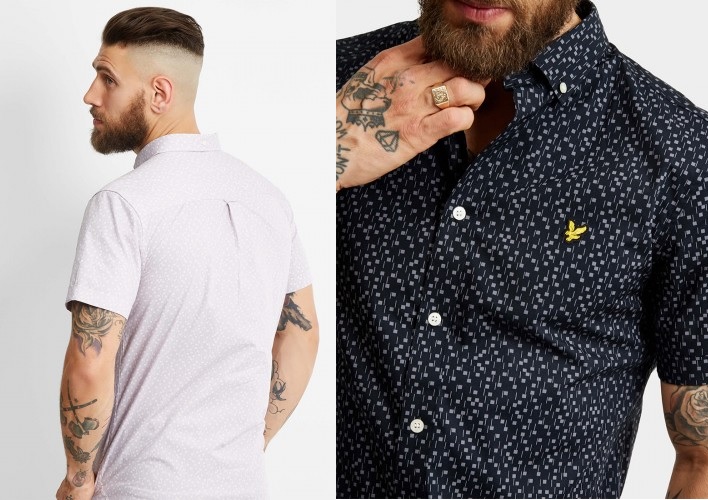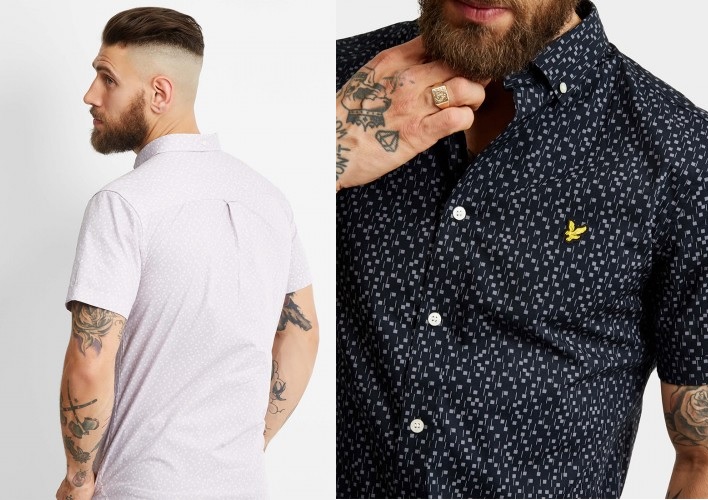 Lyle & Scott always produce great seasonal patterns, and their Spring Summer 2019 crop is no different. These micro tile print shirts in Lilac and Dark Navy are made from a crisp 100% cotton Poplin fabric, comfortable for wearing all day long in the Mediterranean heat. They also boast fold-back sleeves, Lyle & Scott branded buttons and a smart button down collar. The shirts go well with any pair of shorts in our collection, as well as with light-wash summer jeans. Sizes range from Medium to XX Large.

This perennial classic sells huge amounts every year, both in the core colours (Navy, White) and new seasonal colours (Light Smoke, Mallard etc.) Our customers love the heritage Fred Perry design, a touchstone of British Mod culture since the 1950s. The beauty of Oxford Shirts is that they bridge the divide between smart and casual — we have customers who wear these to work, and others who bring them on holiday! Plus all the extras you'd expect from Fred Perry's "attention to detail" ethos – box pleat, multi-colour tab, matching side panels etc. The washed Oxford cotton fabric performs incredibly well in summer heat, keeping you cool and fresh all day long. Choose your size in Fred's regular fit from Medium to XX Large.
Farah's vintage collection is quite simply as good as it gets. Their design team pulls off every style with aplomb, and needless to say we are delighted with these smart chino shorts. Available in three colours – Black, Blue Star and Light Sand – these chinos are made from a sumptuous cotton twill fabric with a hint of stretch, giving you maximum flexibility and comfort. Equally at home with a patterned T-Shirt as with a smart-casual shirt, these Farah chino shorts are an absolute must-buy for the style conscious guy on his holidays! Sizes are measured in waist inches, from 30 to 38in.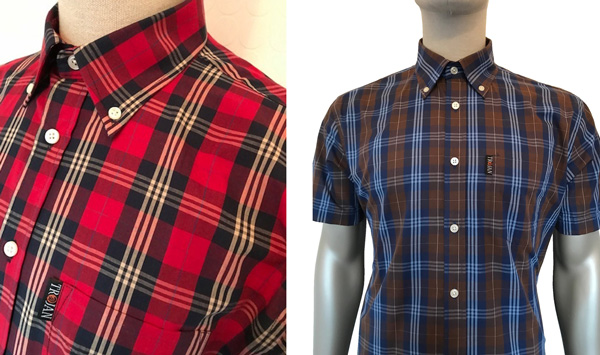 We love a tartan check shirt at Apache, no matter the colour or style. Trojan clothing is affiliated with the world-famous Trojan Records label, which pioneered ska, reggae and 2-tone back in the 1970s and 80s. This short sleeve shirt pays tribute to that golden era, when the Northern Soul scene was at its peak and Quadrophenia was playing in cinemas across the the country. Boasting woven check fabric in 100% crisp cotton (rather than cheap print fabric), a chest pocket, button-down collar, box pleat and tab, this shirt comes in Blood and Chocolate, with a similar garment in a Prince of Wales check pattern also available at Apache. Sizes run from Medium to XX Large.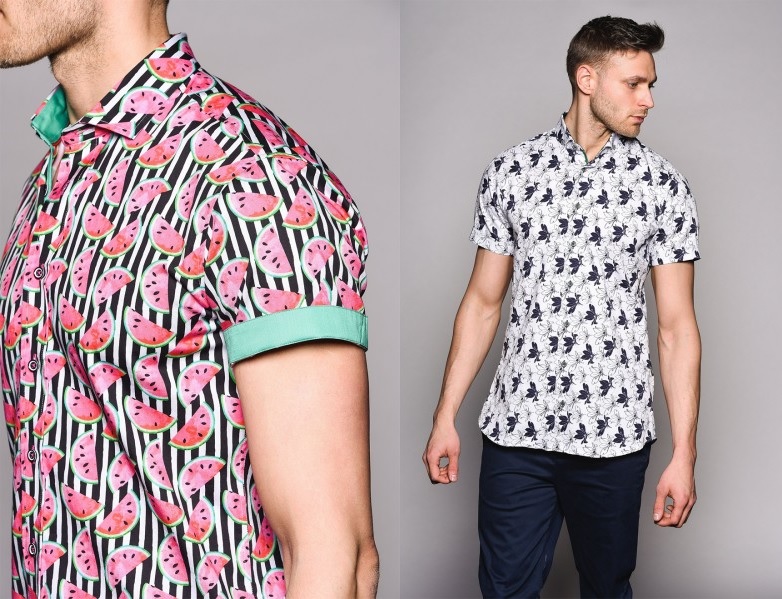 Jiggler Lord Berlue is probably our most popular smart casual brand, bringing out a fabulous collection of "Bobby Dazzlers" every few months. Famed for their quirky designs and close attention to detail, Jiggler's brand new semi-tailored smart casual shirts live up to the high standards of the brand. Both shirts — Watermelon Print and Manya Floral Print — boast 100% superfine cotton with a delightfully soft handle, just the tonic for scorching temperatures both at home and abroad. We love the roll-back sleeves showcasing the contrast lining; it's the small touches like these that separate Jiggler from run-of-the-mill brands. Treat yourself this summer to a dazzling JLB shirt in Medium to XX Large.
Related posts
Deals
,
Discount
,
Discount Code
,
Farah
,
Farah Clothing
,
Farah Vintage
,
Fashion
,
Fashion News
,
Fashion Review
,
High Summer
,
Holidays
,
Horsham
,
Knitwear
,
Menswear
,
Menswear Mix
,
new season
,
Outerwear
,
Outfits
,
polo shirt
,
Polo Shirts
,
Sale
,
Shirts
,
Shorts
,
Spring 2020
,
Spring Summer 2020
,
ss20
,
Summer
,
Sweatshirts
,
T Shirts
,
Uncategorized
25% Off Farah @ Apache Menswear
APACHE MENSWEAR 2021 PLAYLIST
Subscribe to Blog via Email