We can't believe the incredible run of weather we've had this summer in our little corner of Sussex… and we hear it's not been bad all over the UK!  We've sold an incredible amount of shorts, T-shirts and summer footwear, but fortunately there's still plenty left for your consideration.
So if you're off on a summer holiday, or just kicking around your home town and enjoying the sun, make sure you look the part with our stylish menswear.
Use the offer code HEATWAVE to save 10% on everything in our online store!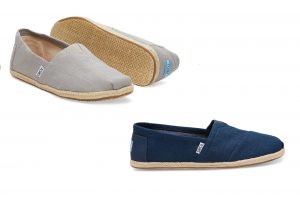 Toms are the ultimate summer menswear shoe. Famed around the world for superior comfort (all the espadrille-style shoes boats a soft insole) and unique design, we're sure you'll find the perfect pair in our collection. This Linen shoe is based on the classic Toms design but with a soft linen upper for added quality and comfort. Get it now in Navy or Grey in sizes 6 to 11. (P.S. we always recommend to buy a size down with Toms, as you won't be wearing socks and the shoe naturally stretched out over time.)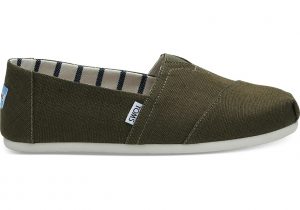 TOMS's brand new "Venice Collection" is a special range of updated original styles, a real tribute to the roots of this iconic footwear brand. This season's colour is a lovely "Military Olive" green that blends perfectly with it's predecessors. A fantastic new edition to the TOMS family.

For a more adventurous look, try one of Toms' famous stripe designs. The "University" slip on has chunky white-and-navy stripes; The classic "Chambray" stripe is a gorgeous white/sky blue number with a leather suede heel bearing the famous Toms logo. The blanket stitch outsole is a little different, but just as tough and durable.
Check out our full range of Toms shoes here.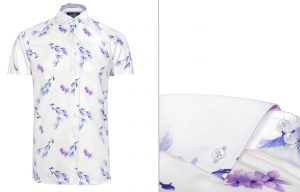 Manchester's finest, Jiggler Lord Berlue, are without a doubt the most eye-catching and eccentric brand at Apache. We're chuffed to bring you a handful of sumptuous new shirts from their High Summer collection. The "Nest" shirt boasts a restrained floral pattern with large white spaces, great for deflecting the sun's glare. Ideal for pairing with one of our linen chino shorts for a quality summer outfit.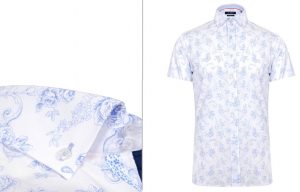 Similar to the previous shirt, with a remarkably lightweight cotton fabric ideal for hot and humid weather Made from a super-fine 100% cotton that will breathe nicely and keep you cool on your summer hols. The printed "Rose" patterns, plus a contrast collar, cuffs and placket, shows a remarkable attention to detail synonymous with the Jiggler brand. Sizes range from Medium to XX Large, all in a flattering semi-tailored fit.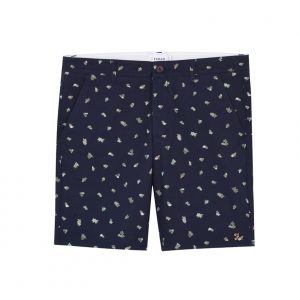 Farah are perhaps our most versatile brand, excelling in everything they turn their hands to. Made from a durable cotton twill fabric, these semi-tailored fit shorts are an ideal addition to your summer wardrobe. The fun summer print looks great both up close and at a distance. Perfect for sitting outside a Mediterranean restaurant drinking sangria until the sun goes down!
Don't forget to use the offer code HEATWAVE to get a 10% discount!