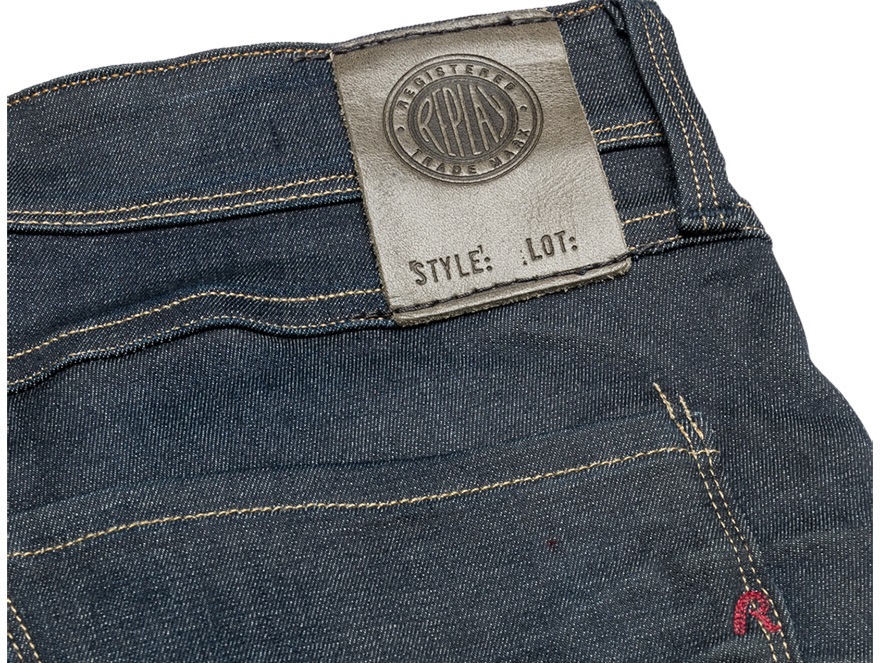 Replay Hyperflex jeans – Goes that extra inch
apache, 5 years ago
0
3 min

read
37
As the autumn season gears up, finding a new pair of jeans is at the top of many a gentleman's mind. But with scores of brands cluttering the denim market, it's become harder than ever to decide upon that right pair. Here at Apache, we've been sourcing the best jeans for 23 years, and our new arrival from world-famous Italian brand Replay is right up there with our most exciting discovery yet. Introducing their innovative new range – Replay Hyperflex.
Boasting 100% elasticity, Replay Hyperflex is the new benchmark in slim and skinny, super-stretchy jeans for men. The innovate mix of polyester, Lycra and cotton gives you complete freedom of movement, as well as an authentic, quality denim look. And you won't have to worry about them stretching out or losing shape, even after years of wear.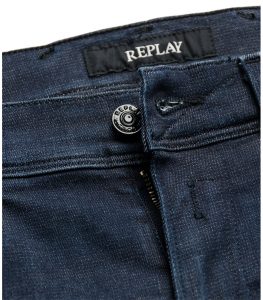 To celebrate #AW16, we are offering a 10% discount on all Replay Hyperflex jeans. Just use the offer code "HYPER10" at our online store, or visit our shop in Horsham.
This season's new arrivals include four new "darker" denims in a variety of washes and finishes. All Replay Hyperflex jeans are hand finished in Italy, with each wash boasting a unique look and handle. The slim tapered fit has proven to be an amazing seller for most shapes and sizes – from skinny lads to the slightly "larger" gentlemen, and for those with a sporty physique. At 11.5oz, all Replay Hyperflex jeans are super light and offer supreme comfort and flexibility.
Who better than Replay's Design Department to explain the wonders of Replay Hyperflex technology (via. The Jeans Blog):
"This new fabric excited us since the very beginning because we immediately understood we were dealing with an extremely innovative and super cool product … The secret and innovation of Hyperflex is the special way in which the fabric is created, using a thread made of 3 layers: the core of the thread is the Lycra for elasticity; Poly defines the middle, protecting the Lycra from breaking with wash and wear; the top layer of cotton is what gives the jeans their authentic denim look."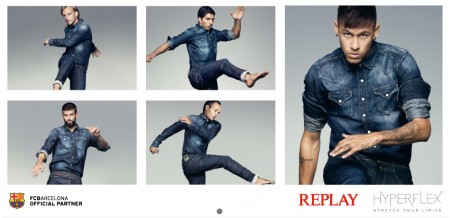 As if the Replay Hyperflex range wasn't cool enough, Replay have partnered with FC Barcelona as the Catalan club's official denim supplier. (Watch here as Neymar, Pique, Iniesta and co. show off Hyperflex's ultra-flexibility with some acrobatic footy skills – with the help of some rather tidy supermodels.)
Salivating yet? Let's take a look at our four brand-new Hyperflex washes, available now at Apache.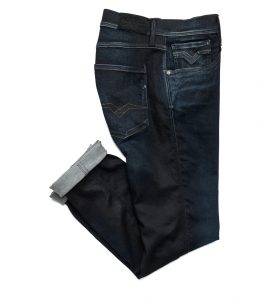 A stylish dark-wash slim jean for everyday wear, with 5 pockets and 11.5oz stretch denim. Each garment has a unique and original wash due to the manual production process, a sure sign of character and quality. There's a blue-black worn look around the thighs, waistband and knees, with micro abrasions on hems and pocket rims. A nice touch is the "gull wing" stitching on the coin and rear pockets, and a contrasting cord around the belt loop. Zip and button closure, 3D crease finish, and sandpapered whiskers to boot.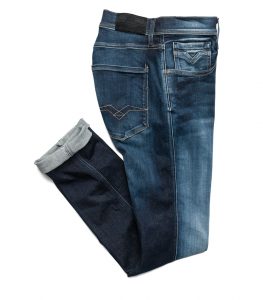 A classic medium-wash, this stunning new jean might be our favourite of the autumn season. Featuring intense colour contrasts, this garment mixes light and dark to create a memorable wash. Like all the Replay Hyperflex range, it's slim from hip to ankle and is remarkably elastic.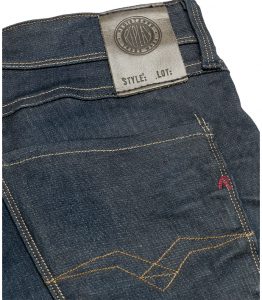 This gorgeous dark jean is rinsed in silicone to protect from washing, which gives the fabric a sleek and distinctive handle. It has all the stylistic touches of the Hyperflex range, with five pockets, gull wing stitching, and sandpapered whiskers and creases.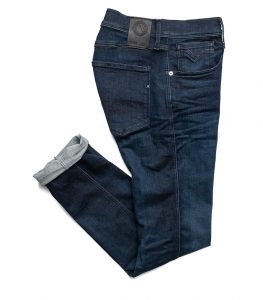 A plainer "vintage" look, the Mid Blue features subtle colour contrasts and lightly hand-sanded highlights.
Click here to grab a 10% discount on Replay Hyperflex with the offer code "HYPER10" at Apache online!
Related posts
APACHE MENSWEAR 2021 PLAYLIST
Subscribe to Blog via Email