Last week we profiled the best Lyle and Scott High Summer arrivals, and this week it's the turn of another iconic British brand — Fred Perry.
Our carefully chosen range includes a unique bomber polo, striking Gingham check shirts, and a host of brand new colours in the classic M3600 polo range. These High Summer arrivals are one-off styles in limited runs, and as such they sell out quickly — so don't hang about!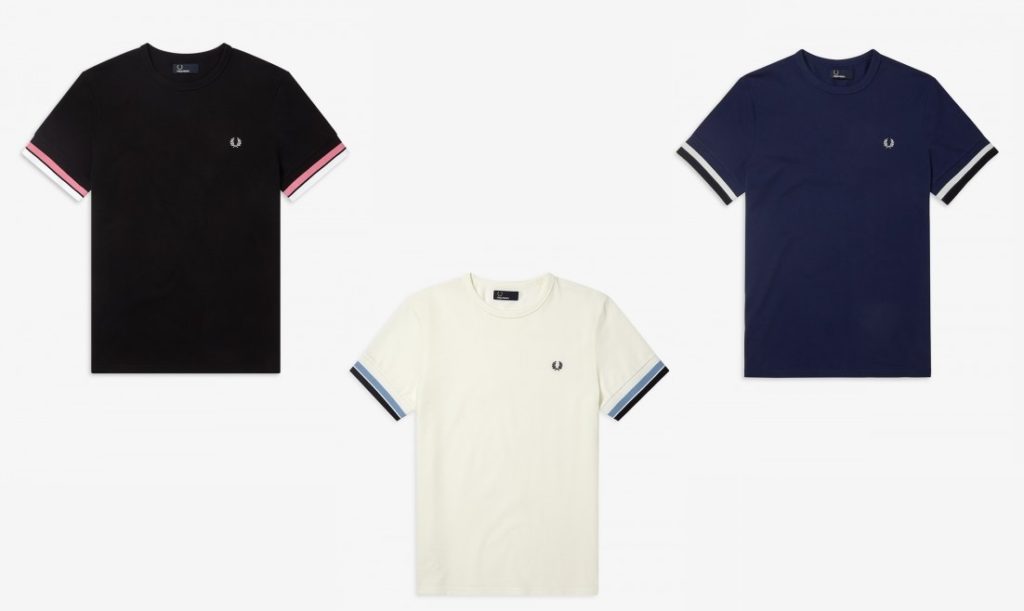 What makes this new T-Shirt one of our best ever Fred Perry arrivals? Let's start with the gorgeous pique honeycomb fabric made from 100% cotton, which not only feels great against your skin but is highly breathable and performs in even the hottest summer weather. Another reason is the striking design — unmistakably Fred Perry — with sporty tipped cuffs and famous laurel wreath logo. Thirdly, as you'd expect from Fred Perry, these T-Shirts wash incredibly well and will last you for years. Choose from Black, Snow White and French Navy versions in Medium to Extra Large.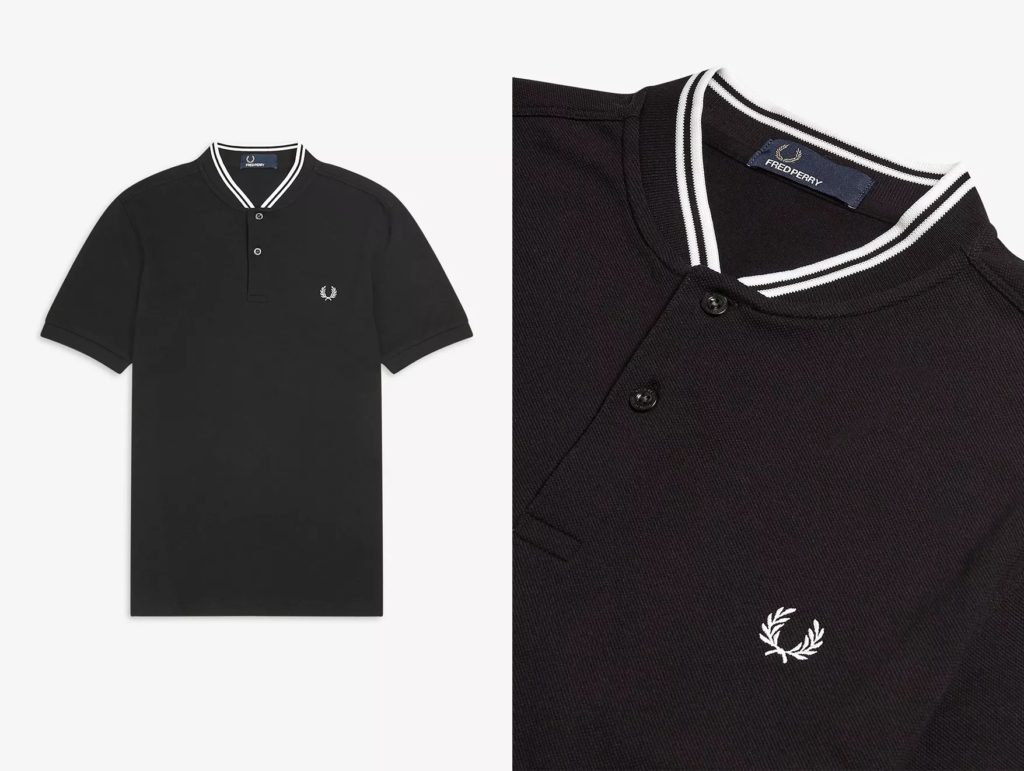 Here's a twist on the classic Fred Perry polo with a bomber neck collar, brand new for High Summer 2019. Boasting the classic twin tipping that adorns so many of Fred Perry's most iconic menswear, this polo shirt is an ideal gift for the Fred Perry fan who thinks he has everything, but doesn't! Like the T-Shirt above, this polo is made from quality pique cotton that is simply a cut above from the competition. Buy this limited edition polo shirt now in sizes Medium to XX Large.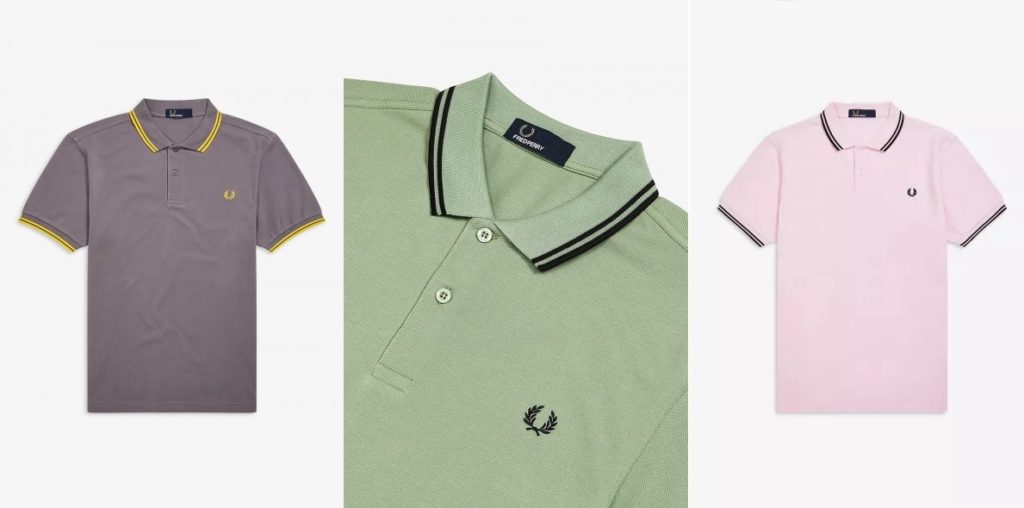 What is left to say about the iconic M3600 twin tipped polo? Fred Perry's most enduring style, we've probably sold thousands of these polo shirts in our 26 year history. We're delighted to unveil four new colours for High Summer 2019 including Iced Slade, Hedgerow and Pink Lady (all pictured). There's also a new Graphite version, and we suggest you browse our entire range of 17 colours both old ( core 52 weeks ) and new season one offs !
2-Colour Gingham Shirts — £65 / £80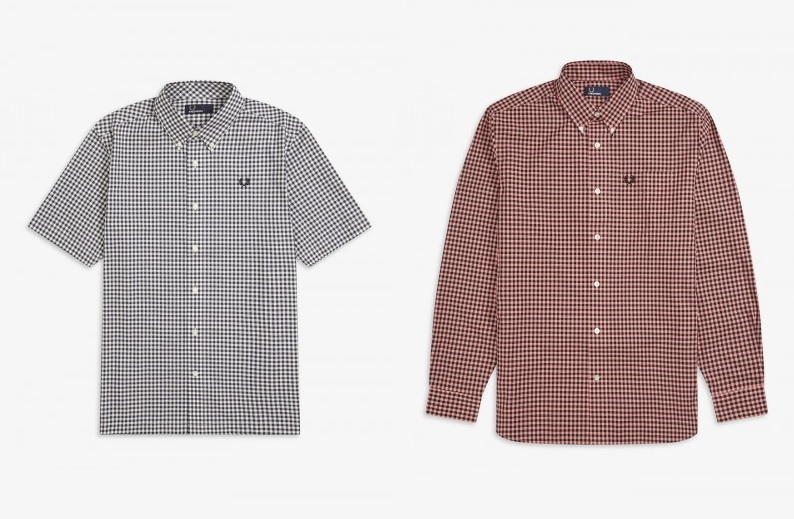 Gingham boasts a long and rich fashion heritage, and Fred Perry are one of the very best at harnessing this classic pattern. Brand new for High Summer 2019 is this long sleeve two-colour gingham shirt in Peach blossom (right), boasting a smart button-down collar, crisp cotton poplin fabric and a handy chest pocket. This shirt is great for "Casual Fridays" at work, summer parties and nights out. You may also fancy the short sleeve version in Dark Airforce (pictured) and Sky. Sizes range from Medium to XXL, and there's limited stock available — so get in there!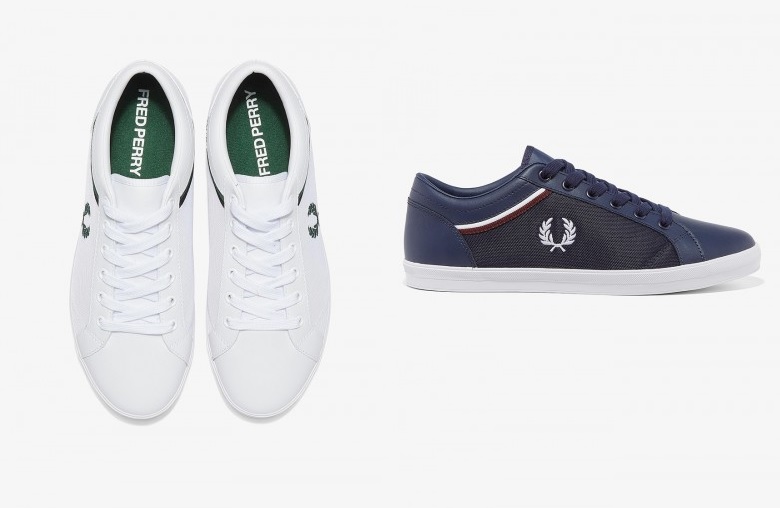 Fred Perry has an obvious tradition of casual sportswear, not least with shoes. New for Spring Summer 2019, these brilliant sneakers boast a sporty mesh side panel and embroidered laurel wreath logo. When you're packing for a summer holiday, these shoes come in very handy for something a little sturdier than Moccasins or slides, especially for days when you'll be walking a lot. You'll be thankful for the memory foam insole, giving you an extra bit of comfort. Available in White and Carbon Blue, sizes range from UK 7 to 11.