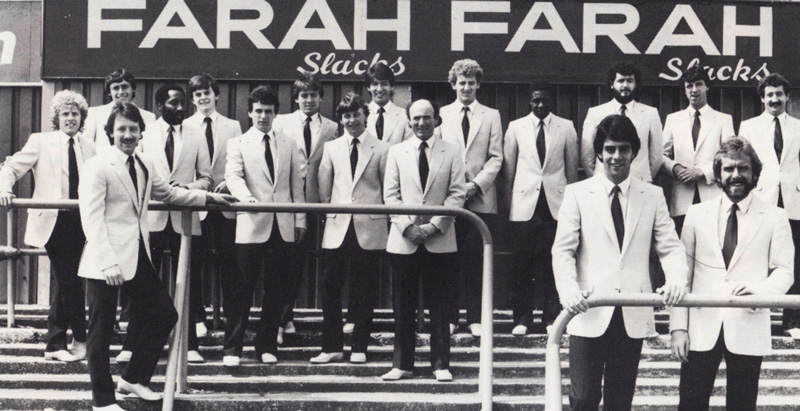 Farah "Black Friday" Discounts at Apache
apache, 6 years ago
0
3 min

read
1173
Here at Apache, if we had a pound (or these days, a Euro) for every time time a customer saw our Farah Vintage range and said "I wore Farah trousers at school", we would be millionaires. Everyone recalls the classic "black hopsack" trousers worn by thousands of schoolkids in the 1970s. These days, the Farah label has evolved into a superb mix of heritage fashion, with vintage pieces that have wowed many of our customers.
Many people don't know that Farah started life as an American brand, launching in Texas in the 1920s. They made high-quality work and combat trousers, even earning a US Army  'E' award in the Second World War. By the 1970s Farah had crossed the Atlantic to become of Britain's best-loved cult brands. We're proud to stock a magnificent selection of Farah polo shirts, knitwear, jackets, and much more.
Four years ago, when we first brought Farah to Apache, most people asked us: "Who's Farah?" Now many of them tell us they love Farah due to the eclectic range of great seasonal colours and innovative, high-quality new products.
We've profiled three of our most sought-after Farah garments this #AW16. Use our unique offer code "FARAH16" at the checkout for a 10% discount on all Farah items!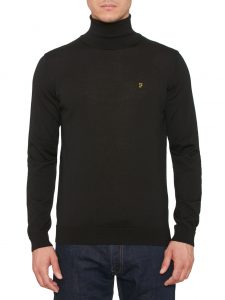 As you know from our Knitwear blog (which you can enjoy here), Merino wool originates from Australia and is legendary for its softness and fineness, as well as its incredible thermal properties. Increasingly harnessed by quality menswear brands, merino wool easily beats any man-made or cotton knit on the market for temperature regulation, breathability and moisture control. Farah have acknowledged that roll necks are increasingly back in style, due to the rise of men wearing smarter blazers and Overcoats. This Black roll neck is the ideal complimentary piece to Farah's Melton Overcoat, or a Guide London's Windowpane Check blazer. Also available in this season's high fashion colour, Camel.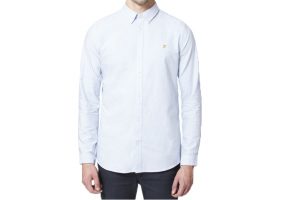 This washed Oxford weave button-down shirt is one of our core staples, popular all year round in three classic colours – Sky Blue (pictured), White and Navy. Unlike unwashed Oxford, the fabric is not stiff and won't scratch your neck, and instead offers excellent comfort. Farah's tailored fit has gone down very well with many of our customers, so much so that guys come back to us year after year for alternative colours. Oxford shirts originate not from Oxfordshire, but 19th century Scotland, made from a fabric using a unique basket weave. What started off as a long sleeve shirt worn by polo players is these days worn for an affordable smart casual look.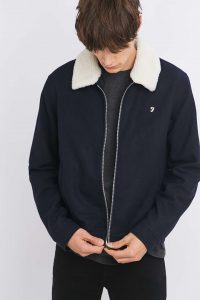 This wool-rich, zip-through waisted bomber jacket boasts a super-soft fine Melton handle with a detachable "Sherpa" collar, making the garment both incredibly lightweight and warm. The interior features a medium-wadded lining with two inside pockets, and also button cuffs. Suited to a "dressed-up" or "dressed-down" look, the jacket goes equally well jeans or casual chinos. In our view, the Otley Jacket is the perfect seasonal outerwear item that can be worn all the way through to Spring.
Get to our website or Horsham shop before Black Friday comes to an end, and claim 10% off with the code "FARAH16"!
Related posts
APACHE MENSWEAR 2021 PLAYLIST
Subscribe to Blog via Email