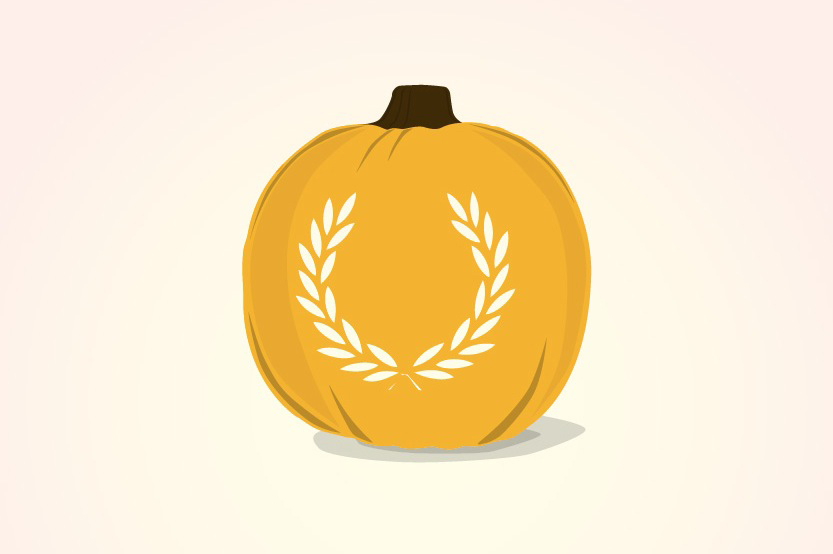 Taking the little ones out and about to get some sweet treats tomorrow night? Or planning on heading to your local Guy Fawkes Bonfire and firework display this weekend? Whatever you're up to don't forget to wrap up warm and keep yourselves looking stylish with some new Jackets and Knitwear, and as the kiddies are getting treats why not Treat yourselves with 15% off all latest arrivals with code: SPOOKY15. Order before 3pm today with next day delivery and you can guarantee to get your order ready for tomorrow night and this weekend and be cosy in your new Jackets and Knitwear.
If it's a big warm jacket you're after then look no further, we've got you covered with the Lyle & Scott Wadded Jacket (middle), the Farah Newhall Hooded Jacket (right) or maybe the Lambretta Hooded Parka (left) is more your style, all are going to keep you warm during these cold months.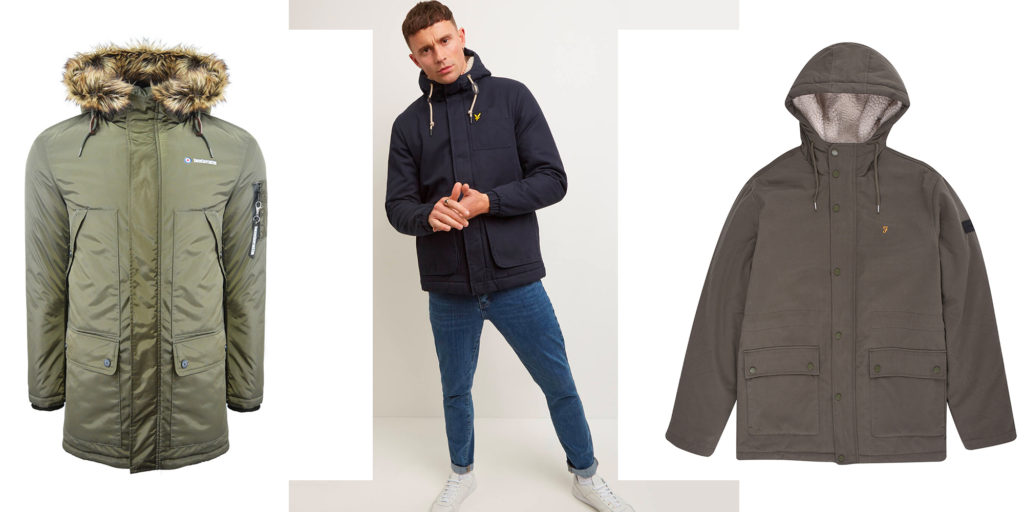 Maybe you're after that new cosy chunky knit to keep you warm instead, once again we've got plenty of options, starting with the Lyle & Scott Shawl Neck Cardigan(Top Left), the brand new Farah Bouler Raglan Jumper (Truffle Marl(pictured Bottom Left) or Yale Marl) or maybe the more retro Gabicci Roll Neck is more for you with a cable panel (Oat(pictured Top Right) & Navy), or Lyle & Scott have the allover Cable Jumpers in multiple colours (Stone Blue Marl(pictured Bottom Right), Jade Green & Dark Navy)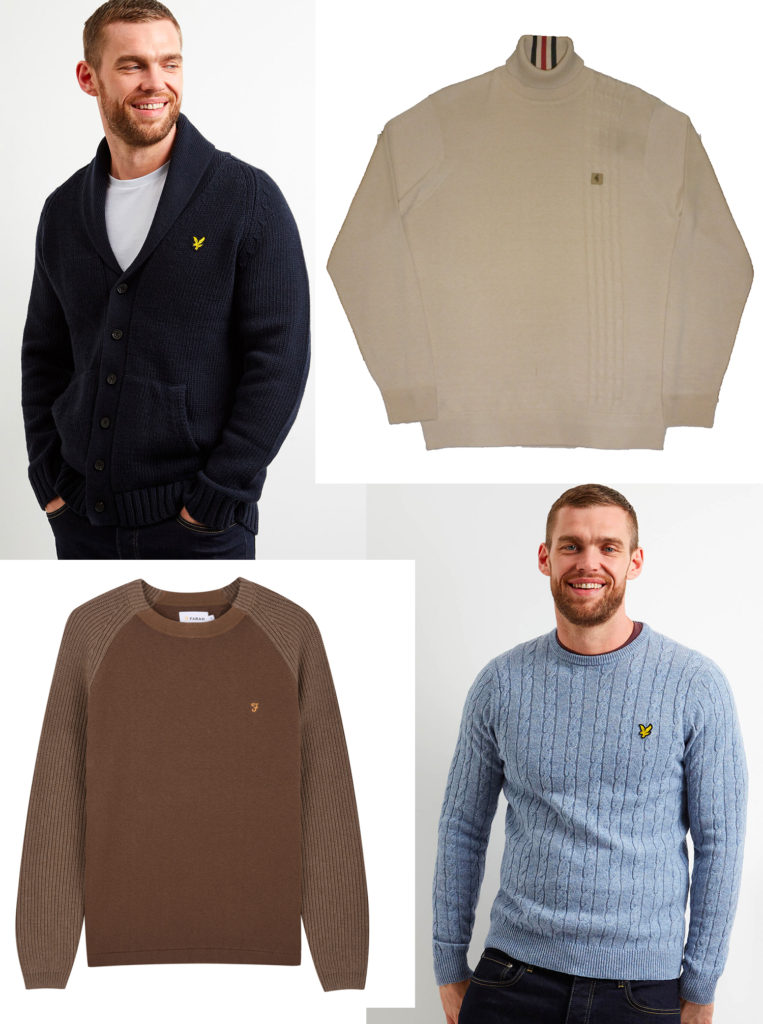 Layering Up:
Jackets: If you prefer a lightweight Jacket to layer up to complete your look then how about these options, we have the Fred Perry Brentham Jacket (Dark Thorn(pictured Centre) & Navy), the Farah Beckett Cord Jacket (Left), or if you want something with a hood why not try the Lyle & Scott Geo Print Hooded Jacket (Right).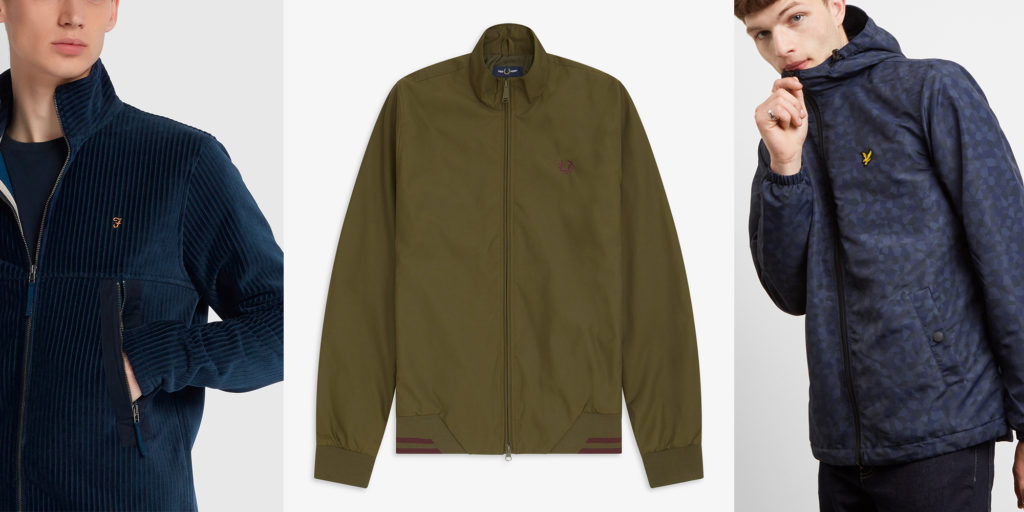 Sweatshirts: If you need a new Sweatshirt to stick under your Jacket then we have a variety of options, go bold with the Farah Warwick Camo Sweatshirt (Top Right), or stay a little safer with the Fred Perry Tipped Neck Sweatshirt (Top Left), or if you need a hood then the Lyle & Scott Zip Through Hoodie (Mid Grey, Navy, Burgundy(pictured Bottom Left) & Blue Shore) will be perfect, a 1/4 Zip option comes from Farah in the Briar style in a fleece material (Pictured Bottom Right) or the Jim Quarter Zip more basic sweat style in a variety of Marl colours(Black, Farah Red, Light Grey, Deep Olive & True Navy).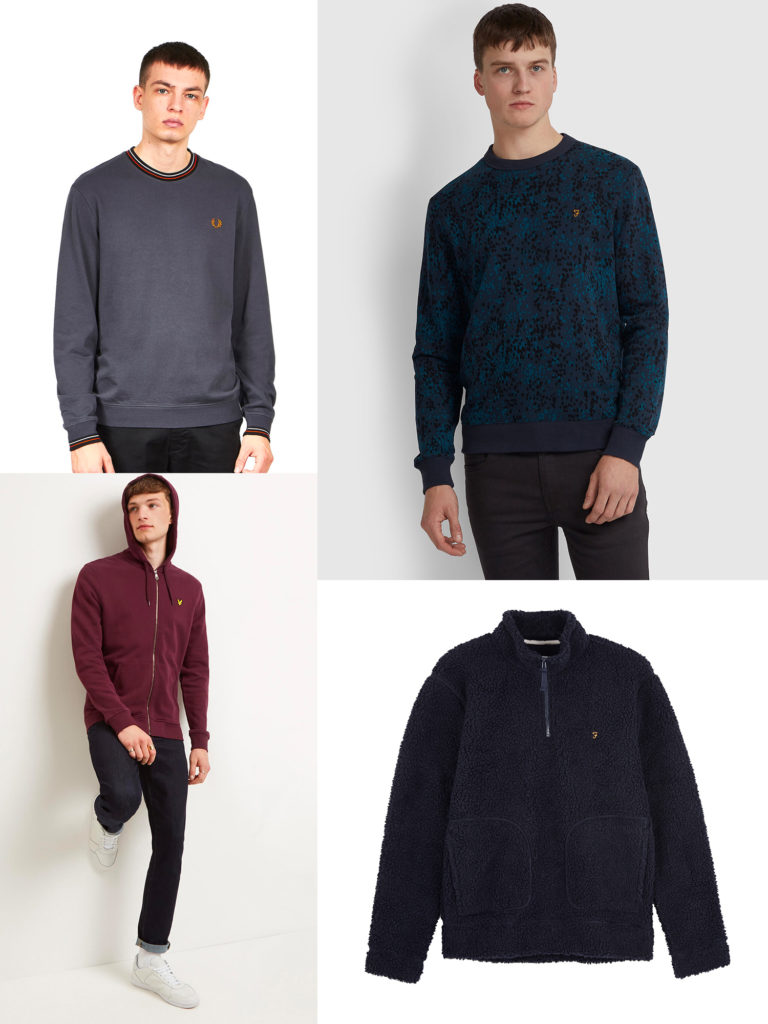 Knitwear: How about a piece of lighter Knitwear to keep you warm underneath your Jacket, Lyle & Scott V Neck (Burgundy Marl, Dark Navy, Charcoal Marl (pictured Left) & Jade Green Marl) is always a staple layering up item, if you'd rather a collar over a v neck on your knitwear then how about the Gabicci Hatchet Knitted Polo (Toffee, Navy & Merlot (pictured Centre)) or why not try a Quarter Zip on your knitwear like the Farah Redchurch 1/4 Zip Knitwear (pictured Right).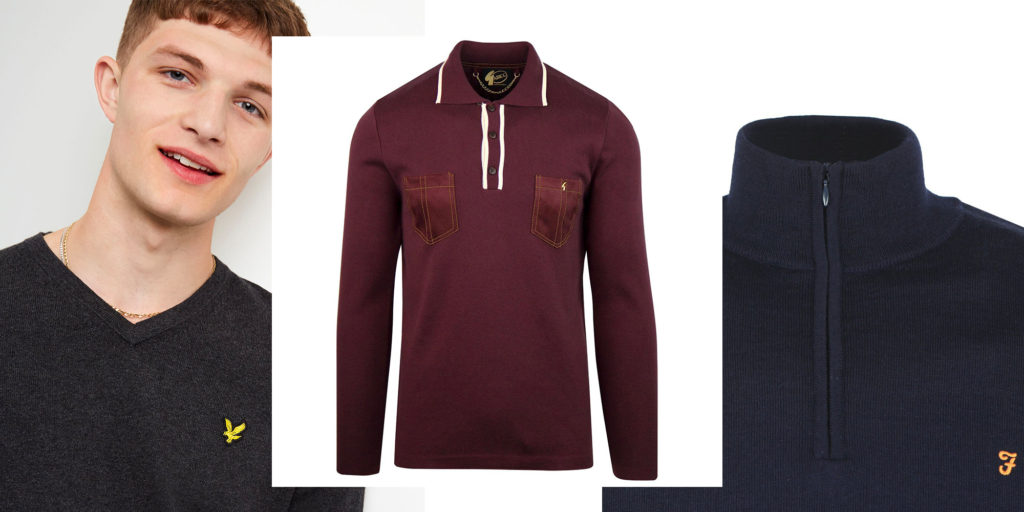 Harringtons: At Apache we've run a Harrington Jacket for as long as we can remember, the perfect jacket to layer up, fortunately for us they're making a huge resurgence and we've got them in a variety of styles and colours to make sure there's one for every type of style and occasion, first up is the Classic Harrington from Merc (Black (pictured Right) & Navy), we also have the Bold Tartan Print Harrington from Lyle & Scott (Middle) and Brand New in is the Farah Bowie Cord Harrington (Left).

Use Code: SPOOKY15 for 15% Off All New Arrivals @ Apache
Related posts
APACHE MENSWEAR 2021 PLAYLIST
Subscribe to Blog via Email